Karl-Heinz Müller (Bread & Butter): "A tribute to Berlin"
With Parisian fashion trade shows undergoing many significant changes lately, such as Who's Next Prêt-à-Porter Paris now being placed just before Bread & Butter, Karl-Heinz Müller assured that he will not change the dates of his German fair. In fact, he sees the changes happening in Paris as a tribute to Berlin, which has been (implicitly) designated as the reference.

FashionMag.com: Who's Next Prêt-à-Porter Paris will be taking place in 2012 from June 30 to July 3. What do you think about this change in date?
Karl-Heinz Müller: Other press members have asked me that question. What should I say? At the end of the day, I have little concern for Paris. Bread & Butter offers sport, urban and streetwear. In these particular segments, Who's Next has never held a strong international position. We even have a number of French visitors. I often go to the Tranoï fair in Paris but haven't been to any trade shows at the Porte de Versailles for a number of years, where there are not many new brands to discover. Who's Next used to compete head-to-head with Prêt-à-Porter Paris. Now they are united, but their offer is still not urbanwear.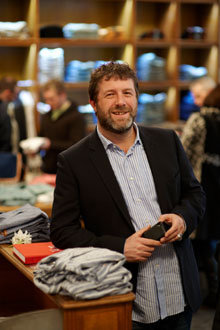 FM: But isn't the change in date a step forward?
KHM:
I am not sure if the new dates are better. September is indeed too late, but now they have made the schedule even denser, as the new dates are already crowded with trade shows in Florence, Berlin, Copenhagen...Whether it's a good thing for Paris, that is up to the organisers to tell you. For us, it matters very little. In order to create an international platform, it is a question of concept and not of dates.
FM: But the Parisian fair will fall in between Florence and Berlin...
KHM:
French visitors represent 6-7% of our total, making France the third most represented foreign country at Bread & Butter after Germany, Italy and the United Kingdom. Perhaps Who's Next isn't offering these buyers what they need. I think that street fashion is no longer well represented in Paris. It certainly was in the 1908s with Sehm (ed. note: a large menswear trade show). But since then, they have been exhibiting a number of womenswear brands without much coherence. I think people need to roll up their sleeves and think of a good concept. I respect a lot of fashion fairs, in particular Pitti Uomo and Tranoï. When I go to certain trade shows, like before in Copenhagen, I think to myself: Wow, respect!
FM: Paris will now come before Berlin in the summer calendar. What impact will this have in Berlin?
KHM:
The fact that our dates have inspired Paris is a tribute to Berlin. But in Berlin, buyers will have the choice to go to Bread & Butter,
Premium
,
Bright
, catwalk shows... It took us many years to make this happen.
Copyright © 2023 FashionNetwork.com All rights reserved.