Karl Lagerfeld relaunches limited edition of Diet Coke bottle
Diet Coke Limited Edition Collection by Karl Lagerfeld - Behind the scenes film by Loïc Prigent
This Thursday evening in Paris, Diet Coke launched the 2nd edition of
Karl Lagerfeld
's especially designed bottles, which now come in 3 different formats.
The collection features three new and exclusive designs of the Diet Coke aluminium bottle. For this collection, Karl Largerfeld has taken inspiration from the new Diet Coke heroines: Bernadette, Eleanor and Irene. The stylish puppets will appear in the brand's latest TV campaign launching across Europe.
The bottles will be available individually or as a set in an exclusive Collector's Box. In Paris, they'll be available from April 11th in various supermarkets such as
Carrefour
,
Monoprix
or even at the indie
Colette
. Across the world, expect this special edition in Summer. Prices vary from 1 to 1.5 euros.
Karl Lagerfeld has shot the Diet Coke print and outdoor advertising campaign featuring supermodels
Coco Rocha
, Heidi Mount, and Jeneil Williams.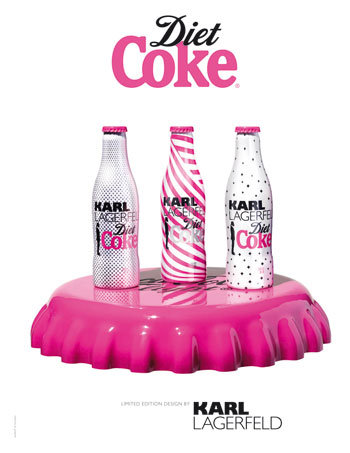 Diet Coke Limited Edition Collection by Karl Lagerfeld
by Christian Layolle
Copyright © 2023 FashionNetwork.com All rights reserved.