Killy gets back on track
On 9 November, the Killy (Lafuma Group) team met in Annecy (France), gathering local and international buyers and the press for a runway show unveiling the brand's 2012/2013 autumn-winter collection. This collection, presented in grand style, is the product of the labor of Product Manager, Aurora Calmier (formerly of Rossignol and Fusalp) brought in by Eider in July of 2010 with the goal of getting Killy back on track.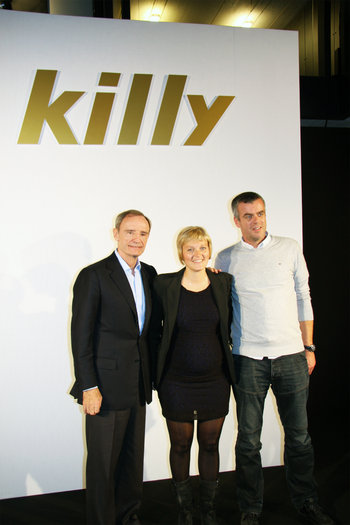 The November 9 runway show at Annecy: Jean-Claude Killy, Aurore Calmier and Thibaut Cornet attended

"In developing this collection, we have drawn from the brand's archives, eschewing tricolor garments in favor of more sober tones," said Dawn Calmier. This new line, broader than the previous one, comes in 50 iterations (about 25 for men and 25 for women) from the down jacket to ski pants and even offering for the first time four apres-ski pieces. High quality products designed for ski lovers, with plenty of technical details (between 500 and 1,200 euros).

"We had both good times and bad because Killy has always been, first and foremost, a brand for skiers," reminded Jean-Claude Killy. Because since its inception in the 1970s by the former Olympic skiing champion, the brand has seen turmoil. After great international success in the nineteen eighties and nineties, the Killy license has been held successively by Poivre Blanc, then by NTS, the company headed by Paul Goldstein, before being taken over in 2006 for 10 years by Eider, which was itself acquired in June 2008 by the Lafuma group (Lafuma,
Oxbow
,
Millet
...).


Currently present in 40 retail outlets in France, distributed throughout the major cities and resorts, and in 300 stores abroad - mainly in the U.S. (especially in the Rocky Mountain region), Russia and the United Kingdom, Killy could see its distribution network expand over the coming months with the arrival of new agents.


And if, from a financial standpoint, discretion is the motto--"We do not provide figures largely because Killy does not belong to Lafuma, this is a license that runs only until 2016," said Thibaut Cornet, the Deputy Director General of Eider in charge of Killy—the Lafuma group could still give Killy quite a push. Indeed, if the brand does not appear in financial reports, it still belongs at the top of the mountain (Eider, Millet), the same one that for the 2010/2011 year has generated the strongest growth, 10.4%, for a group that is just coming out of its difficult years.
Copyright © 2023 FashionNetwork.com All rights reserved.