L'Oreal Q2 below forecasts, hit in eastern Europe
July 12 - French cosmetics maker L'Oreal reported second-quarter sales below market expectations, hit by a slowdown in trading in North America and eastern Europe.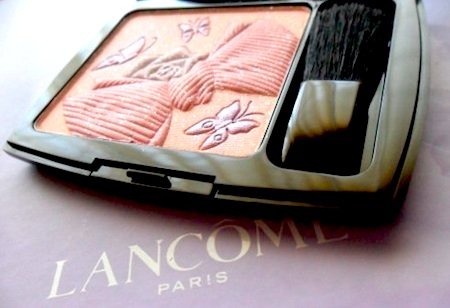 Make-up brand Lancôme, owned by L'Oreal
The maker of
Lancome
lipstick,
Biotherm
creams and
Garnier
shampoos saw its second-quarter sales rise 4.6 percent, while analysts had expected an increase of between 5.5 and 6 percent.
"This is below my forecasts," said one London-based analyst, who had expected a 6.2 percent rise in comparable second-quarter sales and who expressed concern regarding the major drop in sales in eastern Europe.
"This is a significant emerging market for the group," he added.
Revenue from eastern Europe, which rose 0.7 percent in the first quarter, was down 8.2 percent in the second quarter to 325.3 million euros ($463.6 million) on a reported basis.
"It is the first time in many years that we are seeing difficulties in eastern Europe," L'Oreal Chief Executive Jean-Paul Agon told analysts in a conference call. He partly blamed the region's problems on its economic woes.
Revenue in North America, L'Oreal's biggest market, fell 4.9 percent on a reported basis, having grown 12 percent in the first quarter.
Agon declined to give a forecast for the year and would only say the group was confident it could improve sales and profits and beat the market's average growth rate.
"We think the growth of the market will be around 4 percent in the second half as it was in the first half and we are confident that we will outpace the market in the second half as well," he said.
On a reported basis, L'Oreal's luxury division which includes brands such as Yves Saint Laurent and Giorgio Armani was the only one to generate growth in the second quarter, with sales up 3.8 percent on a reported basis.
Revenues from professional products and consumer products were down 0.7 percent and 0.3 percent respectively.
By comparison, during the previous quarter, L'Oreal's luxury sales were up 10.3 percent, revenue from professional products was up 9.6 percent and from consumer products, it was up 9.4 percent.
L'Oreal's revenue overall reached 4.99 billion euros in the quarter to June 30, up 0.9 percent on a reported basis.

(Editing by James Regan and David Holmes)
© Thomson Reuters 2023 All rights reserved.