Lanvin chief declares email-free Wednesday
Thierry Andretta, chief executive of France's oldest fashion brand Lanvin, has found a radical remedy against the avalanche of emails he gets every day: he has declared Wednesday an email free day.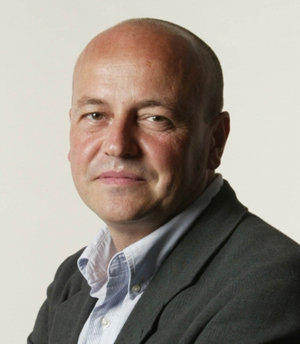 Thierry Andretta
That way, he says, he gives himself one day a week during which can concentrate without being interrupted and get things done.
"Generally, I think we have become too accessible. We all lose too much time reading and writing emails and they prevent you from thinking clearly," Andretta told Reuters on the fringes of the FT Luxury Summit in Lausanne, Switzerland which brought together hundreds of fashion, luxury executives, consultants and financiers.
"Also, when you read emails when you are traveling you are not there, you are elsewhere which is a shame. It prevents you from really tuning into your surroundings and sinking in the atmosphere which is something I want to do more."
Andretta, a seasoned fashion executive, said he was trying to get other people at Lanvin to follow his move but there was not much enthusiasm internally.
"I think they are not really interested but it might be also because they get fewer emails than me," Andretta said. He said decided to implement the move earlier this year after getting increasingly depressed and frustrated by the sheer volume of emails he was expected to handle daily.
"For example, before taking the plane to New York from Paris, I would read and answer most of my emails and by the time I got off the plane, there were another 250 waiting for me. It is just too much."
Andretta turned round fashion house
Celine
at
LVMH
in the late 1990s and spent several years at
Gucci Group
(PRTP .PA) before joining Lanvin in January 2009.
Founded in 1889, Lanvin is one of France's fastest-growing fashion brands. It is known for its audaciously-cut silk evening dresses adorned with chunky jewels designed by bow-tied chief designer
Alber Elbaz
who this year will celebrate his 10th year at the brand.
UNREALISTIC
Most business today is done via emails and many companies require that information is systematically shared with colleagues for legal, practical or career-building purposes. Andretta's idea might not be on its way to being adopted at Lanvin but it was well received by other fashion executives at the luxury summit in Lausanne.
"Personally, I think people share too many little details using emails. But often it is company policy," Vladimir Martynenko, vice-president for business development in Eastern Europe, Turkey and the Middle East at Polo
Ralph Lauren
.
"I have found out that there are many emails you don't need to answer and within a few days, the matter gets handled without you," he added.
But other luxury executives, such as
Jean-Claude Biver
, chief executive of luxury watch brand
Hublot
, thought Andretta's idea was nice but unrealistic and impractical.
"The one who can allow himself not to read or answer emails during an entire day in a working week indulges in real luxury," Biver told Reuters in an interview at the summit.
"For me it is not realistic, communication is the very foundation of our existence, you cannot leave your clients, partners, journalists for 24 hours without a reply." Hublot, which belongs to the world's biggest luxury group LVMH, is one of the most active Swiss watch brand in the sponsoring of sports events.

(Reporting by Astrid Wendlandt)
© Thomson Reuters 2023 All rights reserved.