Liz Claiborne CEO says liquidity position sound
By Martinne Geller
NEW YORK, Sept 9 (Reuters) - Liz Claiborne Inc's (LIZ.N) chief executive assured investors on Wednesday 9 September that its liquidity position remains sound, less than a week after the apparel company said it hired a turnaround firm; its shares jumped 8.5 percent.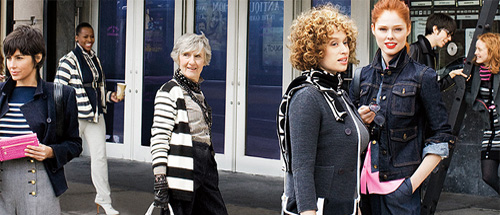 www.LizClaiborne.com
Chief Executive William McComb also said consumer behavior was becoming predictable, and that next year would be healthier than this year.
"We have more than sufficient liquidity. We are not concerned at this point about our liquidity metrics," McComb said during a presentation at a Goldman Sachs conference that was simultaneously broadcast over the Internet.
Last week, the owner of the Juicy Couture, Lucky Brand and Kate Spade labels said it hired turnaround firm Alvarez & Marsal on a short-term basis to help it improve its operations and cash flow.
McComb criticized the idea, raised in a Wall Street Journal article, that hiring a restructuring firm is often the first step toward a bankruptcy filing.
"Couldn't be further from the truth and I just want to be super-clear about it," he said.
McComb said that as part of the credit amendment and extension the company got in January, it agreed to hire an expert to evaluate its cost-cutting efforts and cash flow management at some point in the future to see if there were additional steps it could take to improve operations.
"This is truly a five-week exercise to take a good look at what we're doing," McComb said. "If they've got any advice at the end of it, we will likely make any announcements around any ideas that we learn from them and that will be that."
GETTING FEEDBACK ON NEW LINE
Liz Claiborne -- an apparel and accessories wholesaler and retailer -- has struggled as many of its department store customers cut back on orders, or discount items to speed their sale. Peers such as Phillips-Van Heusen Corp (PVH.N) and Jones Apparel Group Inc (JNY.N) have also felt the impact.
Still, Liz Claiborne gave its namesake sportswear line a make-over by celebrity designer Isaac Mizrahi, whose new designs debuted in the spring.
McComb said early feedback from department stores on the new line was that it had a bit too much color and fashion. He said that was "stunning" for a brand that for the better part of the last decade was thought to not be trendy enough.
He said the company was taking the feedback to heart and would consider emphasizing "the bread and butter staples of the line" over pieces that might be more fashion-driven.
The industry slowdown made the relaunch difficult, McComb said, since department store buyers are very risk-averse following the toughest holiday season in nearly four decades.
"They are using a rear view mirror, not a windshield, to plan forward," McComb said.
Nevertheless, he said 2010 would be a healthier year for the industry than 2009 and that he was more bullish on the back half of 2010 than the first half, as consumers' actions become more predictable.
"If you can predict consumer behavior you can react to it and you can engineer to be profitable. That's how I'd characterize 2010," he said.
Liz Claiborne shares were up 31 cents at $4.43 in afternoon trading on the New York Stock Exchange. (Reporting by Martinne Geller; Editing by Gunna Dickson, Phil Berlowitz)
© Thomson Reuters 2023 All rights reserved.