Liz Claiborne profit tops view; year forecast cut
By Martinne Geller
NEW YORK (Reuters) - Liz Claiborne Inc said on Tuesday higher-than-expected sales helped first-quarter operating profit zoom past Wall Street estimates, sending the apparel maker's shares up 3 percent.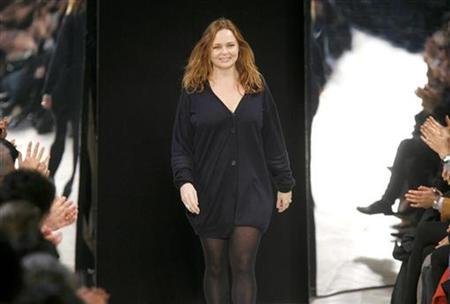 Despite the strong results, Liz projected weakness in the second quarter due to a calendar shift, disappointing sales trends in its Mexx Europe business, and discounting by U.S. retailers trying to get cash-strapped consumers to buy clothes and accessories.
Liz cut its full-year profit forecast, citing the weak U.S. economy.
"In providing this revised guidance, we note that higher food and energy prices, higher mortgage payments and declining consumer confidence anticipated for the second half of the year are reducing our visibility into key metrics that impact our performance," Chief Executive William McComb said in a statement.
Liz's first-quarter net sales rose 4.9 percent to $1.12 billion, topping analysts' average forecast of $1.10 billion, according to Reuters Estimates. But the rise was mostly due to the weak dollar, which boosts the value of international sales when converted back to dollars.
The New York-based fashion company, whose portfolio has expanded over the years to encompass more than 40 brands, put 16 of them up for sale last summer. In the end, it kept three, sold eight, discontinued or merged four into other labels, and licensed one to a department store.
It is focusing on its four "direct" brands -- Juicy Couture, Kate Spade, Lucky Brand and Mexx -- which have their own retail stores and younger, more fashionable customers than some of its older wholesale brands, such as Liz Claiborne.
In the first quarter, the direct brands' sales rose 28.2 percent to $620 million, while sales of the "partnered," or wholesale, brands fell 14.4 percent to $501 million.
BY THE NUMBERS
The company, which also owns the Enyce and Narciso Rodriguez brands, reported a net loss of $31.0 million, or 33 cents per share, for the first quarter, ended April 5, compared with a net profit of $16.2 million, or 16 cents per share, a year earlier.
Excluding restructuring expenses, a loss on disposal of discontinued operations, and results of discontinued operations, earnings from continuing operations were 28 cents per share, far above analysts' average forecast of 10 cents.
Due to the "difficult economic environment," Liz said it now expects 2008 adjusted earnings per share to range from $1.40 to $1.60, down from a prior forecast of $1.50 to $1.70.
Liz shares, down 10 percent this year through Monday's close, were up 56 cents to $18.93 in morning trade on the New York Stock Exchange.
(Reporting by Martinne Geller; Editing by Derek Caney and Gerald E. McCormick))
© Thomson Reuters 2023 All rights reserved.