Liz Claiborne shares drop 16 pct after weak outlook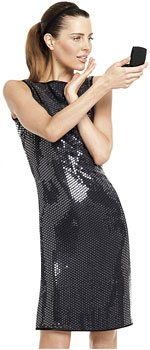 www.lizclaiborne.com
NEW YORK (Reuters) - Liz Claiborne Inc shares fell 16 percent on Tuesday, a day after the fashion company reported weak sales trends in the wake of the financial crisis that are likely to continue into next year.
The New York-based company said net sales from continuing operations fell 16 percent in the quarter, as the company discontinued some products, licensed out its fragrance business and saw sales declines in its wholesale business, which sells merchandise to department stores.
On a Tuesday conference call, Chief Executive William McComb blamed discounting by retailers across the board for the weak results, and even described high-end department stores such as Saks Inc as having an "arms race" with promotions.
"The mark-down environment is incredible," McComb said. "There's a feverish mark-down cadence going on."
McComb said it is possible that consumer spending during the all-important shopping period between the U.S. Thanksgiving holiday on Nov. 27 and Christmas on Dec. 25 could be stronger than people are expecting.
"I think after that ... the trends that we've looked at and the consumer confidence that we've all read about in the news is really going to define 2009," McComb said.
Analysts shared his view, with Standard & Poor's reiterating its "sell" rating on the stock and Morgan Stanley reiterating its "underweight" rating.
In the third quarter, Liz Claiborne saw a decline in its retail segment, which includes the Juicy Couture, Kate Spade, Lucky Brand and Mexx chains, where sales fell 15 percent.
"We do not expect these trends to end soon given deteriorating employment, consumer sentiment and discretionary income," said Standard & Poor's analyst Marie Driscoll in a research note.
While next year's launch of the signature Liz Claiborne brand designed by Isaac Mizrahi is a plus, Driscoll said: "other portfolio constituents are likely to remain under pressure through 2009."
Morgan Stanley analyst Chi Lee said in a research note that deteriorating department-store fundamentals, weak performance at the company's own retail stores and low profitability levels increase the risk of lowered earnings next year.
Liz Claiborne shares were down 15.8 percent, or $1.02, at $5.44 on the New York Stock Exchange.
(Reporting by Martinne Geller, editing by Leslie Gevirtz)
© Thomson Reuters 2023 All rights reserved.