Liz Claiborne to cut 8 percent of workforce
By Martinne Geller
NEW YORK (Reuters) - Liz Claiborne Inc said on Tuesday that it planned to cut 725 jobs, or 8 percent of its U.S. workforce, to reduce costs in a weak retail market, sending the fashion company's shares up nearly 7 percent.<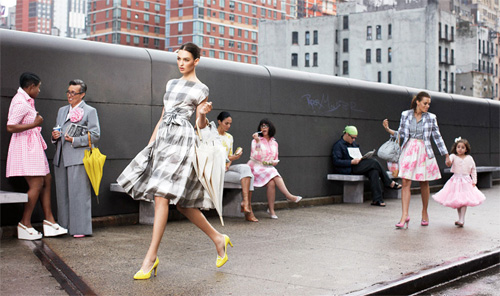 Liz Claiborne New York spring-summer 2009
The owner of the
Mexx
,
Lucky Brand
,
Juicy Couture
and Kate Spade labels became the latest company to lay off workers in a recession that has already claimed hundreds of thousands of jobs in recent months.
On Monday, Macy's Inc, a top Liz Claiborne customer, said it planned to consolidate several divisions and slash about 7,000 jobs as it forecast 2009 earnings far below Wall Street estimates.
A spokeswoman for Liz Claiborne said the company's announcement was unrelated to Macy's actions.
According to Forbes, 362,335 jobs were lost at America's 500 largest public companies between November 1 and January 30.
New York-based Liz Claiborne said it would close a distribution center in Mt. Pocono, Pennsylvania, and suspend merit pay increases for all employees.
"The challenging retail and economic environment requires us to remain more focused than ever on cost rationalization," said Chief Executive William McComb, who joined the company in November 2006 and has since given it a makeover.
Since 2007 the company, which also owns department store brands like Liz Claiborne and Kensie, has eliminated about 2,200 global jobs, closed six distribution centers and trimmed its portfolio by selling, closing or licensing 14 brands.
Credit Suisse analyst Omar Saad said the Macy's restructuring had both positive and negative implications for its apparel vendors, which include Jones Apparel Group Inc, Polo Ralph Lauren Corp and Phillips-Van Heusen Corp in addition to Liz Claiborne.
A consolidated Macy's could be easier and more efficient for the vendors to work with, Saad said, and noted a possibility that big brands could benefit in the near-term as Macy's looks to rely more heavily on large vendors that can service it most efficiently during the transition.
"However we can't ignore the significant execution risk ... particularly in a time of such uncertainty," Saad said.
"Macy's especially weak 2009 guidance ... also has troubling implications for apparel vendors selling into this giant chain, adding yet another overhang."
Saad estimated Liz Claiborne's exposure to Macy's was about 14 percent of its sales.
Liz Claiborne said the latest job cuts spanned all levels of the company, which plans to complete them by the end of the first quarter. Eligible employees will be offered severance packages and outplacement services, the company said.
The company's shares were up 14 cents, or 6.9 percent, at $2.17 on the New York Stock Exchange. They are still down about 90 percent from a high of $22.72 touched last February.
(Reporting by Martinne Geller; Editing by Lisa Von Ahn)
© Thomson Reuters 2023 All rights reserved.