LVMH opens its heritage sites to the public
On October 15th and 16th, the Maisons of the LVMH group are going to welcome the public into their most symbolic heritage sites: workshops, vineyards, private mansions, family homes and historic boutiques. More than 25 sites will be opened to the public during these two days in France - both in Paris and the provinces – as well as in Italy, Spain, the United Kingdom and Poland. All of the major Maisons within the Group will take part in the event.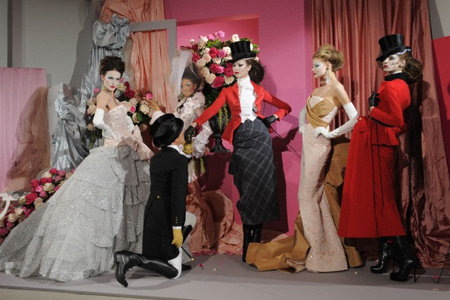 Former designer John Galliano poses with his models at the Christian Dior Haute Couture show as part of the Paris Fashion Week Spring/Summer 2010 (Photo: Corbis)
These two days will be a celebration of the diversity of skills, artisan knowledge and the tradition of excellence which flows through the Group. It is this culture of craftsmanship, transmitted from generation to generation and, that has enabled the global success of these brands. "Les Journées Particulières" will reveal the locations where this significant artisanship takes place and will honour the human heritage which drives LVMH in its vocation to service its clientele throughout the world.
"These locations are living treasures and are the setting for the exceptional talent within each of the Group's Maisons. We are delighted to open them to the public and we hope that the visitors will be as moved and amazed as I am each time I visit them. Each Maison possesses its own heritage and individual relationship to excellence and innovation. Brought together in one group, these Maisons support each other and share their communal passion for perfection, both in the diversity of the traditions which inspire them and in the innovation and modernity which has given them their global prestige. We welcome you all," said
Antoine Arnault
, Chief Executive Officer of
Berluti
and LVMH Board Member.
These skills cannot be dissociated from the locations or the histories from which they came. The high-end wine and spirits tradition is inseparable from the unique land owned by the Group, which includes areas in the Champagne region, Bordelais, Charente and Scotland. The leather goods, fabric, perfume, jewelry and watch traditions also have their roots in ancient and fertile lands: Paris and numerous French provinces, Italy, Switzerland, Spain, the Hautvillers Abbey, the workshops on Avenue Montaigne, Place Vendome and Asnières. Each of these places evoke and preserve the memories of the major creations which were born in them, inspiring the imagination of the creators and artisans who work there each day.
On the 15 and 16 October the public will be invited to discover the heritage of the Maisons and artisan handicrafts of the LVMH Group. This event will, as of 20 June, be part of a Group publicity campaign to unveil the symbolic handicraft activities within each of its Maisons. In order to access the sites, individuals can subscribe on the internet and present their invitation at the entrance, although some places will require no reservation.
LVMH sites opened during those two days are:
• Christian
Dior
Couture, Salon de Haute Couture, Paris
• Parfums Christian Dior, Siège Parfums Christian Dior, Paris
•
Louis Vuitton
, Ateliers d'Asnières, Asnières
• Berluti, Salons Berluti, Paris
•
Givenchy
Couture, Studio de création, Paris
•
Kenzo
Mode et Kenzo Parfum, Showroom, Paris
•
Emilio Pucci
, Archives, Italy
•
Loewe
, Showroom, Madrid
•
Chaumet
, Salons Chaumet, Paris
•
Guerlain
, Maison Guerlain, Paris
•
Moët & Chandon
, Résidence de Trianon, Champagne/Epernay
• Dom Pérignon, Abbaye d'Hautvillers, Champagne/Hautvillers
• Veuve Clicquot Ponsardin, Hôtel du Marc et Pavillon de Muire, Champagne/Reims
Caves, Champagne/Reims
• Krug, Maison Krug, Champagne/Reims
• Ruinart, Maison Ruinart, Champagne/Reims
• Hennessy, Château de Bagnolet, Poitou - Charentes/Cognac
• Chai de la Faïencerie, Poitou - Charentes/Cognac
• Quais Hennessy, Poitou - Charentes/Cognac
• The Glenmorangie Company, The Glenmorangie Distillery, Scotland
• Belvédère, Belvedere Distillery, Poland
• Château Cheval Blanc, Château Cheval Blanc, Aquitaine
• Château d'Yquem, Château d'Yquem, Aquitaine
• La Grande Epicerie de Paris, Les cuisines de la Grande Epicerie de Paris, Paris
• Le Jardin d'Acclimatation, Maison de Kiso, Paris
Copyright © 2023 FashionNetwork.com All rights reserved.