M&S delivers fresh jobs blow as rate cut looms
By James Davey and Mark Potter
LONDON (Reuters) - Retailer Marks & Spencer said on Wednesday it was cutting 1,230 jobs after a sharp fall in sales, and job losses in the financial sector added to pressure on the Bank of England to cut interest rates to a record low.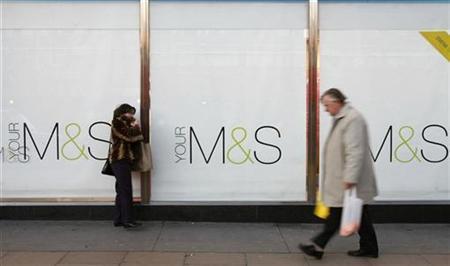 M&S, Britain's top clothing retailer, reported its worst sales figures for a decade, hit by tough economic conditions following the global credit crisis.
Policymakers from the Bank of England were expected to cut interest rates from 2 percent on Thursday to help try to revive a faltering economy.
Chancellor Alistair Darling told the Financial Times that Britain was "far from through" a recession and surveys showed demand for staff, and pay levels weakening.
Darling predicted in November that the economy would contract between 0.75 and 1.25 percent in 2009, but said that the worst would be over in the first half of the year.
Britain has slashed interest rates by 3 percentage points since October and the government has cut taxes to try to ward off a deep recession, mirroring moves in other industrialised nations.
However, unemployment is rising and some commentators say it will be approaching a figure of three million by the end of the year.
Subprime lender Cattles said on Wednesday it would cut 1,000 jobs or 20 percent of its workforce, while banking group Barclays plans to axe over 400 jobs in its UK technology departments.
Prime Minister Gordon Brown said the government was doing all it could to create jobs and to blunt the impact of the recession.
"We are determined during this period of time (to have) inflation low. Interest rates will be low and that's the best way to stimulate the economy," he told reporters.
Brown, touring central England, was announcing plans to create an extra 35,000 apprenticeships for young workers, with a 140 million pound investment.
BUYING BASICS, SHUNNING CARS
M&S, which serves more than 21 million people a week from over 600 stores, said like-for-like sales fell 7.1 percent in the 13 weeks to December 27, broadly in line with analysts' expectations.
"We expect challenging economic conditions to continue for at least the next 12 months," said Marks & Spencer (M&S) Chairman Stuart Rose.
Its shares jumped as much as 8.4 percent to 258.75 pence, their highest since November 11, on hopes a cost-cutting programme would protect profits and its dividend. They ended 2.2 percent higher.
Women's clothing manufacturer and retailer Viyella, formed in 1784, became the latest famous high street name to fall into administration. The company operates around 100 stores and concessions in Britain and employs around 450 staff.
Adding to signs that the market for basic food items is holding up, baker Greggs said underlying sales rose 5.3 percent in the four weeks to January 3.
Christmas shoppers flocked to buy 4 million of its mince pies during the holiday season.
And as people looked to enjoy cheaper nights in, Britain's biggest pizza takeaway chain, Domino's, said its 2008 profit should be ahead of market expectations after underlying sales rose 8.6 percent in the 13 weeks to December 28.
However, life is tougher for those trying to sell expensive items like cars.
Britain's Society of Motor Traders and Manufacturers predicted on Wednesday that 2009 would be another difficult year for its members after data showed new car sales in December slid 21.2 percent year-on-year.
(Writing by Paul Hoskins; Editing by Jon Loades-Carter)
© Thomson Reuters 2023 All rights reserved.