M&S profit hits 1 billion pounds
LONDON (Reuters) - Marks and Spencer's annual profits hit 1 billion pounds but the retailer cut its staff bonus, having failed to meet internal targets, and warned a slowdown in consumer spending could run until autumn 2009.
Britain's largest clothing retailer said on Tuesday adjusted pretax profits rose 4.3 percent to 1.007 billion pounds, slightly higher than some analysts' expectations due to a lower-than-expected interest charge.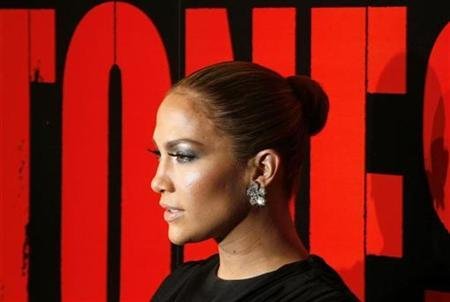 The shares reversed an early relief rally to trade down 2.5 percent at 408.25 pence by 10:10 a.m., underperforming the DJ Stoxx index of European retailers on market expectations that a slowdown in consumer spending will worsen.
Chief Executive Stuart Rose said he expected market conditions to remain difficult until "summer or autumn 2009" and indicated profit before tax was likely to fall this year.
"As a retailer we would welcome a reduction in interest rates and we would welcome the government to give more confidence to consumers," Rose said.
M&S, a bellwether for the state of consumer spending, had failed to meet undisclosed internal targets and Rose said he would forgo a bonus after a 2.6 million pound payout last year, as would other top management.
Instead, the company would make a one-off discretionary payment of 16.8 million pounds to be shared by both store staff and employees in its well-performing international and online business units.
Credit Suisse analyst Tony Shiret said he believed Marks and Spencer's annual profits could fall to 800 million pounds to 900 million pounds this financial year, but the worsening consumer market that could still make that hard to achieve.
RESILIENT
Still, Citi analyst Richard Edwards said he believed within the context of the UK sector -- where DSG international saw its shares plunge 10 percent last week after disappointing the market -- M&S's update was "a rare and resilient outcome".
It is the first time in a decade M&S has made 1 billion pounds of profits, cementing the four-year turnaround of the chain under Rose's leadership. Finance Director Ian Dyson said earnings per share of 49.2 pence was a record high.
But Rose noted the market was more difficult today than when he started, with rising living costs squeezing shopper spending.
Trading for the first seven weeks of the financial year 2008/09 had been mixed with April proving "a difficult month".
"May to date has shown a marked improvement although we remain cautious about consumer sentiment," Rose added.
Annual UK like-for-like sales fell 0.5 percent in 2007/08.
In its efforts to drive growth, Rose, who is due to become executive chairman as well as CEO next month, said he planned to spend 800-900 million pounds this year on expansion into areas such as international and online while cutting 50 million of costs from other parts of the business.
M&S will also start a trial next month in 19-20 stores in north east England of selling around 350 lines of branded products. The impact on profit margins would be "immaterial" over the short term, Dyson said.
Bernstein Research analyst Luca Solca said he saw "major opportunities" for M&S expanding into fragrances and cosmetics.
M&S Direct, its Internet retailing business, grew 63 percent last year with market share up 200 basis points to 6.2 percent.
International profit rose 33 percent with 20 percent more space added due to investments in central and eastern Europe and India. M&S will open a store in Shanghai in the autumn.
(reporting by Rachel Sanderson, editing by Sue Thomas and Elizabeth Fullerton)
© Thomson Reuters 2023 All rights reserved.