M&S's sales trend improves, sees tough 2010
By James Davey and Mark Potter
LONDON, Sept 30 (Reuters) - British retailer Marks & Spencer (MKS.L) posted an improvement in its quarterly sales trend and raised its forecast for full-year profit margin, but cautioned 2010 was likely to be a tough year.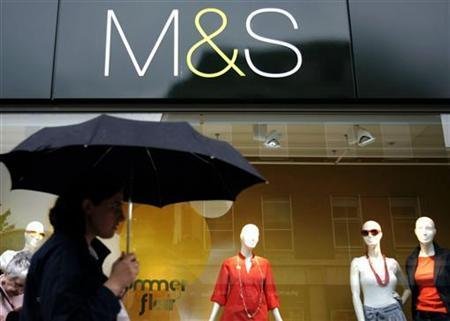 M&S
, which sells clothes, homewares and food from over 600 stores in Britain and 285 abroad, said on Wednesday 30 September sales at British shops open at least a year fell 0.5 percent in the 13 weeks to Sept. 26.
That was the eighth quarterly fall in a row, but also the best performance for two years and at the top end of forecasts for a fall of between 0.5 percent and 2.2 percent.
"Whilst there is more visibility in the marketplace and consumers appear more confident, we continue to be cautious about the outlook. We expect 2010 to be a tough year," executive chairman Stuart Rose said in a statement.
M&S has been hit hard in the recession, losing ground to cheaper rivals like Primark in clothes and supermarkets in food.
On Wednesday 30 September, online fashion retailer ASOS (ASOS.L) posted a 47 percent rise in first-half sales.
Still, M&S's performance has been better than analysts had feared, helped by new products, price cuts and promotions, and its shares have outperformed the DJ Stoxx European retail index .SXRP by 46 percent this year on hopes of a recovery.
A British retail survey on Tuesday 29 September supported signs of an upturn. But official data for August were flat and a string of industry executives have warned of a tough year ahead with unemployment and taxes set to rise.
M&S, Britain's biggest clothing retailer, said its full-year gross margin should fall by 50-100 basis points, better than previous guidance for a fall of 125-175 basis points thanks to better stock control, sourcing and supply chain management.
KBC Peel Hunt analyst John Stevenson said he was likely to raise his full-year profit forecast by about 10 percent to 550 million pounds ($877 million).
But he noted some analysts had already increased their estimates following better than expected trading updates from competitors like fashion chain Next (NXT.L).
One trader said M&S shares were set up open about 8 pence higher, while another called them down 2 pence.
Analysts expect M&S to make a full-year profit of 540 million pounds, according to Reuters Estimates, down from 604 million in 2008-09, but up from a 2009-10 consensus of 471 million six months ago.
M&S said like-for-like sales fell 0.8 percent in general merchandise, which includes clothing, and were flat in food.
International sales were up 9.6 percent and total group sales for the quarter were up 2.7 percent.
M&S shares closed at 374.8 pence on Tuesday 29 September, valuing the business at about 5.8 billion pounds. (Editing Dan Lalor) ($1 = 0.6272 pound)
© Thomson Reuters 2023 All rights reserved.