M0851 ups the stakes in Europe
Messenger bags, accessories and leather jackets: all of M0851's items are made in their workshops in Montreal. The Canadian brand, created in 1987 by Frédéric Mamarbachi, puts the emphasis on the know-how of its workers and demands quality above all else in the sourcing of its raw materials, which for the most part come from Italy, and its finishes. Under the leadership of its creator, who designs timeless and unisex items, the brand first developed through wholesale in North America, the success of which helped in building a network of boutiques, before finally launching itself on the international market.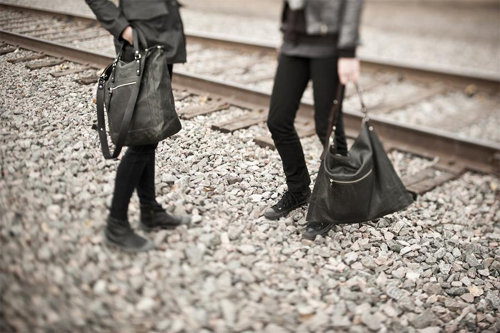 M0851's bags are made in Montreal. Photo M0851
M0851, whose name comes from the first letter of the founder's name followed by the month and year of his birth, offers bags ranging in price from 400 to 600 euros, and smaller accessories priced between 50 and 150 euros. Its jackets, which represent 30% of revenue, cost between 800 and 900 euros. The brand is exploring other potential avenues including gloves and hats, as well as outdoor jackets in laminated cotton.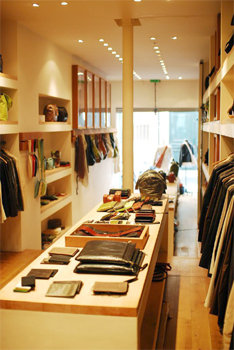 The M0851 store on rue des Saints-Pères, in the 6th arrondissement of Paris. Photo M0851
Today the brand has boutiques, designed by its creator, in the Canadian cities of Montreal, Toronto, Calgary and Vancouver, as well as in New York. Also present in Asia through a partner firm, it has a boutique in Taiwan and has just opened one in Tokyo, where its products were already on sale at
Isetan
. In Europe, the brand has a store in Paris as well as one in Antwerp.
But it's in Europe, a territory which until now was managed from Canada, that the brand is really pushing its expansion by entrusting the European market to the specialists - Brand Value Development, a French company which develops American brands on the European markets and vice versa, and acts as a consultancy for European businesses looking to develop internationally. The company is owned by Marc Valat, former Buying Director of menswear and childrenswear at
Printemps
who has also worked for
Galeries Lafayette
and was Commercial Director of
Mexx
, and Jacques Mitterand, also at Mexx from 1994 to 2003 as Chief Financial Officer and former Chief Operating Officer for
Guess
.
"We have agreed to provide this local presence and to develop the European market. The brand has a huge amount of potential as without really even being commercially represented, it has already managed, without really even trying, to be listed at
Le Bon Marché
, Le Diable Méridien in Marseilles,
Franck & Fils
, Appartement in Zurich and boutiques in Berlin", explains Marc Valat. "We have a branch in Paris and will be taking over another in Antwerp. Our goal is to move the brand on to the next level by concentrating first of all on France, Benelux, Northern Europe and England."
M0851 can already count on around one hundred exclusive points of sale in Europe, and is planning to develop its network of boutiques to increase visibility. "The idea is to have boutiques of between 550 and 750 square feet in the major European cities", adds Jacques Mitterand. "We're targeting Paris, with a second boutique perhaps in the Marais neighbourhood as of September, and three other cities within the next two years: Stockholm, London and Berlin."
Alongside the new boutiques, the brand is planning on developing its presence in its best stockists and in European department stores. "We have contracts with agents in Great Britain, France, Norway and Belgium, and we're in final talks for the other Scandinavian countries and Germany."
M0851's ambition is to quickly become a major figure in the high-end fashion sector with sales split equally between its retail operations, department stores, and stockists.
Copyright © 2023 FashionNetwork.com All rights reserved.