Macy's cuts 7,000 jobs, slashes dividend
By Aarthi Sivaraman
NEW YORK (Reuters) - Macy's Inc said on Monday it would slash about 7,000 jobs and cut its quarterly dividend as it forecast earnings for fiscal 2009 that fell far below Wall Street expectations, sending its shares down 4 percent.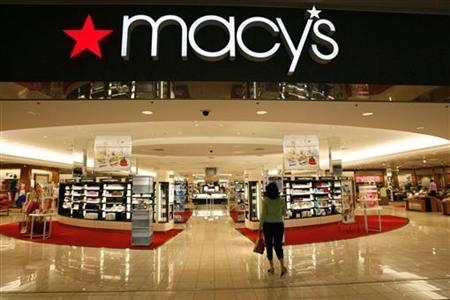 The department store operator said it took the steps to counter what it expects will be a very tough retail market this year, and that it would plan conservatively despite efforts by the U.S. government to build an economic stimulus package.
Macy's expects these initiatives, which also include integrating its divisions into one unit, to reduce its previously planned expenses by about $400 million per year starting in 2010, and $250 million in part of 2009.
"We just believe that this is a time when nothing should be considered a sacred cow," Chief Executive Terry Lundgren said in a conference call following the announcement.
On a pretax basis, Macy's expects costs of about $400 million in cash, mostly in fiscal 2009, tied to the steps.
Its Bloomingdale's stores will not be affected by these initiatives, Macy's said.
In 2008, retailers saw their worst holiday sales in almost four decades as recession-hit shoppers clamped down on spending or hunted for deep discounts.
For Macy's to win consumers over in the recession, it would have to be more promotional, said Patricia Edwards, a retail analyst with Storehouse Partners.
"The retail environment has changed so much. They have not been competing on a value proposition and this is a value market," she said.
OUTLOOK DISAPPOINTS
The job cuts announced on Monday are about 4 percent of the company's workforce and should mostly be completed by May 1, Lundgren said. Macy's also cut its quarterly dividend to 5 cents a share from 13.25 cents.
The company said it expected to earn 40 cents to 55 cents a share, excluding restructuring costs, for fiscal 2009, below the average analyst view of 79 cents per share, according to Reuters Estimates. Same-store sales are expected to decline between 6 percent and 8 percent, Macy's said.
The outlook assumes a steeper decline in the spring than in the fall of the year, CFO Karen Hoguet said during the call.
Its 2009 outlook looked "appropriately conservative," analyst Liz Dunn of Thomas Weisel Partners wrote, adding the cost savings could add another 15 cents per share to Macy's 2010 results.
Macy's also cut its 2009 capital expenditure budget to $450 million from a prior view of $550 million to $600 million.
The company said it would build on its store localization initiative, originally announced nearly a year ago to boost sales and cut costs, to focus on each local market's sales and customer needs.
According to that plan, it will group its stores into 69 geographic areas with an average of 10 to 12 stores in each district.
Macy's will integrate all its functions into a single unit, with its central buying, merchandise planning and senior store management and marketing units to be located primarily in New York. Its corporate affairs office will remain in Cincinnati.
The company said it would not raise salaries for executives in spring 2009 and will also cut the amount of matching 401(k) contributions in the year. It will recommend to the board to reduce other benefits for executives including company cars, life insurance and merchandise discounts.
Macy's shares closed down 36 cents to $8.59, above its previous low of $7.50. Shares also slipped for some of its major vendors, like Liz Claiborne, down 7.7 percent and Jones Apparel, which slid 3.5 percent.
(Additional reporting by Nicole Maestri; Editing by Lisa Von Ahn, Gunna Dickson and Bernard Orr)
© Thomson Reuters 2023 All rights reserved.