Macy's flagship to get $400 million makeover
NEW YORK - Macy's Inc is planning a $400 million make-over of its flagship store in Manhattan, including expanding the selling space in what is already the world's largest store, adding luxury shops and restoring the historic building's facade.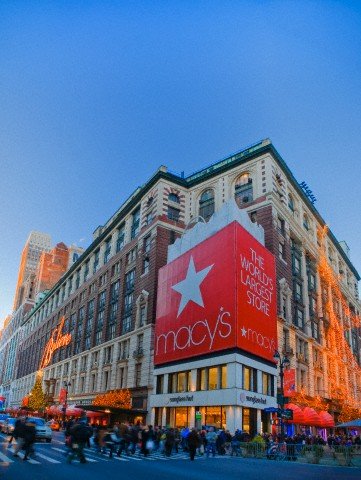 Holiday Shoppers heading towards Macy's at Herald Square, New York / Photo: Corbis

The department store operator said on Tuesday it will start the remodeling in the spring and continue in phases before concluding in late 2015.
The 109-year-old landmark building in New York's Herald Square will grow by 100,000 square feet to 1.2 million square feet of selling space partly by relocating some offices and clearing out some stockrooms.
The project is by far the most ambitious work ever on the store, and Macy's Chief Executive Terry Lundgren said the remodeling is aimed at making it even more productive.
"Historically, this store has been just about the single best investment we ever make with any capital dollars," Lundgren told reporters at a media briefing. "Putting more in this store is a better investment of capital."
The store is six times bigger than the average Macy's and has 11 floors of selling space.
It is the highest grossing location in Macy's 810-store namesake fleet, both in terms of overall sales and sales per square foot, largely due to its status as one of New York's top tourist attractions.
The store gets some 20 million visitors annually, and tourists account for around 25 to 30 percent of sales.
The flagship, which is the hub of Macy's famed Thanksgiving Day parade, is central to the company's brand, in much the same way the Fifth Avenue stores of
Saks Fifth Avenue
and Tiffany & Co are for those chains. Lundgren said the revamp would help the entire chain.
Macy's, which also operates the upscale Bloomingdale's chain, has outperformed rivals such as J.C. Penney Co Inc and
Kohl's
Corp this year, helped by surging sales of high-end clothes and a strong line-up of exclusive lines, such as the recent
Karl Lagerfeld
collection.
GOING MORE UPSCALE
The updated store -- which will stay open during construction -- will include a slew of new luxury shops, and the existing
Louis Vuitton
store will be enlarged to become a multilevel boutique.
The flagship will have luxury items unavailable at other Macy's locations.
But Lundgren said the bigger focus on luxury would not bring the store into direct competition with the Bloomingdale's store further uptown because the two stores draw a different set of tourists.
What's more, in contrast to Bloomingdale's proximity to Manhattan's luxury strips on Fifth and Madison Avenues, Macy's is only near mid-tier rivals like Penney and specialty chains like
Gap
Inc and
Fast Retailing
's
Uniqlo
.
The updated flagship will feature what Macy's claims will be the world's biggest shoe store, with 39,000 square feet on a single floor, in what may be a move to compete with
Nordstrom
Inc before it even has a New York store.
That luxury chain, renowned for its shoe selection, has said it is actively seeking space for a Manhattan store but will wait for the right location.
Macy's will also add interactive directories, a system to stream video of store events and a shoe locater system, among other features.
The store, which runs along 34th Street between Broadway and Seventh Avenue, was expanded in three phases in the 1920s and took its current form in 1931.
In a nod to history, Macy's said it would preserve all but one of the 43 wooden escalators in the store, restore the store's exterior and reopen one of its 34th street entrances.
The $400 million remodeling is huge investment, considering it is for just a single store.
In comparison, for the current fiscal year, which ends in January, Macy's plans to spend $800 million on capital improvements including the remodeling.
Lundgren said that with some projects like a new distribution center now done, he could focus on other capital projects without raising Macy's capital expenditure budget.
In its most recent fiscal year, Macy's earned net income of $847 million on revenue of $25 billion.
Macy's expects to add about 800 jobs by 2015 on top of the current year-round staff of 4,600. (Reporting by Phil Wahba; Editing by Maureen Bavdek and Richard Chang)
© Thomson Reuters 2022 All rights reserved.