Macy's Posts a Loss as Sales Decline 9.5%
Macy's Inc, the department store chain, posted a wider quarterly loss on Wednesday 13 May, hurt by a persisting decline in sales as shoppers shunned unnecessary items.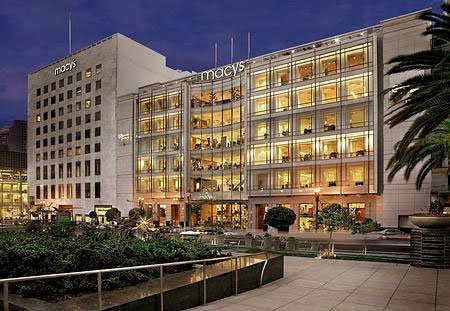 Macy's flagship store in Union Square, San Francisco
Macy's net loss increased to $88 million, or 21 cents a share, in the first quarter ended May 2, compared with a loss of $59 million, or 14 cents per share, a year earlier.
Sales fell 9.5 percent to nearly $5.2 billion, Macy's said.
The results included restructuring charges of $138 million, or 5 cents a share related to the consolidation of divisions and initiatives to tailor merchandise to local markets, announced in February. Excluding those charges, the company lost 16 cents.
Revenues fell to $5.12 billion from $5.74 billion a year ago. Analysts surveyed by Thomson Reuters, who generally exclude one-time items, were expecting a loss of 20 cents a share on sales of $5.2 billion.
Department stores have been facing big challenges as shoppers — worried about their jobs and their retirement accounts — cut back their spending. While there are signs of stabilization in consumer spending among some glimmers of hope for the economy, business remains weak.
The chief executive Terry J. Lundgren said in a statement that the company expected its consolidation efforts to lead to about $400 million in expense savings each year beginning in 2010, after $250 million in the partial year of 2009.
The chain also expects to see an improvement in sales from its localization efforts beginning in the fourth quarter of 2009, and particularly in the spring of 2010.
Macy's announced in February that it was eliminating 7,000 jobs, almost 4 percent of its work force, and cutting capital spending, reducing its contributions to its employees' retirement funds and slashing its dividend.
The company also announced the national rollout of the localization plan, which it began in some regions last year.
Macy's also announced in January — on the heels of the worst holiday season in decades — that it would close 11 stores, affecting 960 employees.
The chain reported last week that same-stores sales, or sales at stores open at least a year, fell 9.1 percent in April, steeper than the drop analysts expected. Same-stores sales are considered a key indicator of a retailer's health.
Macy's said it is sticking with its forecast for fiscal 2009 sales to fall 6 percent to 8 percent and for earnings of 40 cents a share to 55 cents a share, excluding division consolidation costs.
© Thomson Reuters 2023 All rights reserved.