Macy's ramps up efforts to woo younger shoppers
Macy's Inc is aiming to win over more teenagers and young adult shoppers. The department store chain outlined a plan on Wednesday for its buyers and planners to more quickly select and stock the clothes and other items it offers to shoppers between the ages of 13 and 30.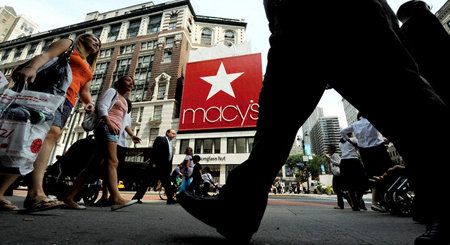 Pedestrians walk past Macy's flagship store in New York City / Photo: Corbis
In addition to tweaking its organizational structure to speed up decision-making, the retailer will also deepen its assortment of brands aimed at a group of shoppers it sees as crucial to its growth.
Last year, Macy's launched a private brand, Bar III, geared toward people born in the 1980s and 1990s -- so-called "Millennials" -- and has said the line has found favor with shoppers. Other such private brands at Macy's include American Rag and INC International Concepts.
Macy's plan comes at a time fast fashion chains Inditex's Zara, Fast Retailing Co's Uniqlo, and H&M , which offer affordable, trendy clothing and turn over their assortments more quickly than traditional retailers, are growing in the United States.
At an investor conference earlier this month, Macy's Chief Financial Officer Karen Hoguet said it was important to win Millennials.
But she said internal research found that while Macy's is on their radar screen, it was not "the store of choice" for older Millennials.
"That's a customer who buys lots of other things in the store besides apparel" such as home products, makeup and handbags, Hoguet said.
Macy's, which handily outperformed rivals J.C. Penney Co Inc and Kohl's Corp in terms of sales gains last year, has credited its My Macy's program, which allows regional stores to cater to local tastes, for much of that success.
The retailer said My Macy's would help each store tailor the selection aimed at Millennials at any given Macy's store. (Reporting By Phil Wahba in New York, editing by Dave Zimmerman)
© Thomson Reuters 2022 All rights reserved.