Mare D'Amare to head to Russia
Mode City, the beachwear trade show which has just closed its doors in Paris, may struggle to keep up with its competition. Its Italian rival, Mare D'Amare, is embarking on a number of projects and initiatives aimed to support Western European beachwear companies and inject some life into the market. The show, which opens this Saturday 14th July in Florence until 16th July, will this year welcome 280 labels - around 50 more than last year - and expects almost 8,800 buyers.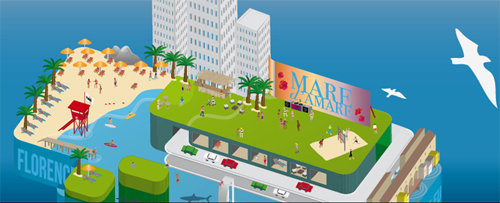 Mare D'Amare 2012 marketing campaign
Born five years ago, the trade fair, which is organised by non-profit organisation 'Toscana d'Amare', also wants to set up an edition of the show in Moscow. With this in mind it will be accompanying 15 brands from its show to the next edition of
CPM
, the Moscow trade fair organised by the German Igedo, which will be held from 5th to 8th September. "It's an exploratory mission that we plan to repeat next year, although with no less than 50 brands. Our aim is to recreate a mini Mare D'Amare at the heart of the CPM's section dedicated to Italian fashion," explained a spokesperson for the Florentine beachwear show, a sort of "pop-up trade fair appearing from Moscow to Shanghai".

Mare D'Amare organises fashion shows et events
In another development, Mare D'Amare is setting itself up to be "the first digital trade show streamed in real time". Introduced last year, Mare D'Amare Digital - the trade fair's virtual edition - is going to be developped this year. Thanks to this digital platform, anyone who can't go to Florence can access the trade show live with a password. "We have teams filming the stands and the collections prior to the opening as well as during the whole fair. This year, there'll be more crews working on the filming and for internet-users it'll be as if they were really there", explained organisers. The virtual trade fair will be available until the end of September.
Finally, Mare D'Amare will also have sales experts, specialised in visual merchandising and psychology, on-hand for exhibitors and holding classes for those who want to "sell better and sell more".
Copyright © 2023 FashionNetwork.com All rights reserved.