Mariella Burani Fashion Group sells majority share in Calgaro
MILAN, 4 July (Ansa) – Mariella Burani Fashion Group has sold its 51% stake in Calgaro, part of the group's Fashion Jewellery division and that is traded on the Piazza Affari in Milan, the company stated. The group has sold 51% of Calgaro to FinHolding, owned by Giuseppe Calgaro and Monica Fin, meaning that Mr Calgaro will now hold 100% of the enterprise, valued at some €4.1 million.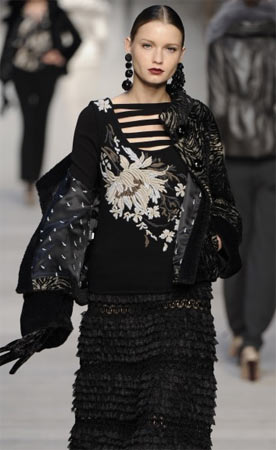 Mariella Burani fashion show autumn-winter 2009/2010
This handover, MBFG explained, is part of the down-sizing project of the division which started with the sale of Rosato in May. The current strategy of the Mariella Burani group is to focus on clothing and leather goods businesses, which now represent more than 90% of the group's sales.
By Jonathan Fulwell (Source: Ansa)
Copyright © 2023 ANSA. All rights reserved.