Men's Wearhouse misses Street, shares tumble
Men's Wearhouse Inc reported quarterly results below analysts' estimates and forecast a weak second-quarter profit due to a dip in uniform sales at its UK operations, sending its shares down as much as 28 percent after the bell.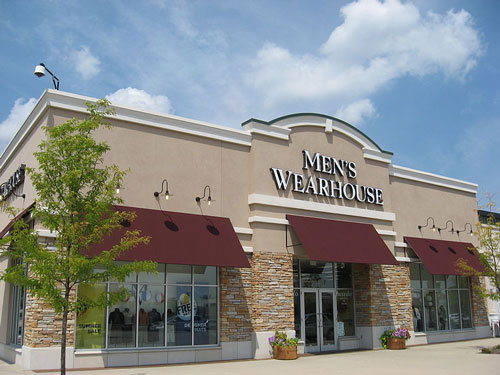 Mens's Wearhouse in Miamisburg, Ohio / Photo: Cloudbound
The men's clothing retailer had in March predicted a fall in corporate apparel sales in the first and second quarters as it takes time to introduce new products in its U.K. market. Sales of corporate apparel will pick up in the third and fourth quarters, the company had said.
In August 2010, Men's Wearhouse bought UK-based workwear maker Dimensions Clothing Limited and certain assets of Alexandra Plc for 61 million pounds to expand its corporate apparel and uniform business.
Many products that were rolled out in the front half of last year, are being rolled out in the second half this year as the company arrives at the anniversary of its UK operations. So the slump in corporate apparel sales is essentially just a timing issue, the company said in a conference call.
Corporate apparel sales dipped 16.4 percent to $49.9 million in the first quarter, primarily due to delayed launch dates for uniform programs this year, the company said.
For the second quarter, the company, which rents out one in every three tuxedos in the United States and Canada, expects earnings of $1.12 to $1.13 per share, well below the $1.22 analysts were looking for.
Men's Wearhouse posted a profit of $26.9 million, or 52 cents per share, for the first quarter, missing analysts' profit estimates for the first time in over two years. Wall Street was expecting 55 cents per share, according to Thomson Reuters I/B/E/S.
Last month, rival
JoS A Bank
Clothiers Inc too posted first-quarter results that missed Wall Street estimates due to a fall in customer visits.
First-quarter sales at Men's Wearhouse inched up 1.1 percent to $586.6 million, but were short of the $593.9 million analysts had anticipated.
Selling, general and administrative expenses rose 5.3 percent to $213 million as the company invested more in merchandising initiatives and e-commerce development.
Men's Wearhouse shares fell 19 percent to $28.65 after the bell on Wednesday. They had closed at $35.57 on the New York Stock Exchange.
© Thomson Reuters 2021 All rights reserved.