Metro AG says picking up speed in tough Europe
Cost-cutting helped Metro eke out a 2 percent rise in second-quarter profit, while the world's No.4 retailer said there were signs its drive to lower prices and invest in services was encouraging cash-strapped Europeans to spend.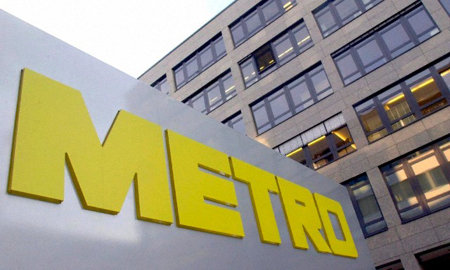 Metro headquarters in Düsseldorf
"We have picked up speed despite the headwind," Chief Executive Olaf Koch said in a statement on Tuesday, adding that the group now expected to save over 120 million euros ($147 million), more than originally forecast, in cost cuts at its headquarters in Duesseldorf.
Metro is lowering prices, especially at its Media-Saturn chain of electronics stores, to match online rivals such as
Amazon
. That strategy and subdued spending among shoppers resulted in a surprise loss in the first quarter.
German retail sales fell for the third month running in June compared to May, denting hopes that domestic consumers will be the saving grace for Europe's largest economy this year.
"In the second quarter, the macroeconomic environment did not support us," CEO Koch said during a conference call. "Nonetheless we could improve our competitiveness successfully."
The group also confirmed a forecast that it will increase sales from 2011's 67 billion euros this year and keep core profit roughly at last year's level of 2.37 billion euros.
Shares in Metro rose in early trade and were up 3.3 percent at 22.47 euros by 0720 GMT as the confirmation of 2012 targets was well received. Analysts had previously warned Metro would have an uphill struggle to meet the goals.
"The fact they didn't scrap their targets is good news," said one Frankfurt-based trader.
Providing a glimmer of hope for the coming months , a survey last week showed that consumer morale in Germany had unexpectedly inched up as consumers shun the low interest rates banks are offering and instead spend their cash on big-ticket items.
BIG SPENDERS
Certainly they seemed prepared to spend on televisions to watch the Euro 2012 soccer championships. Metro said second-quarter sales at Media-Saturn rose 4.5 percent, adding that it forecasts a significant earnings contribution from the unit in the second half of this year.
Analysts at Credit Suisse said the good sales development could be early evidence that Metro's lower-price strategy was starting to pay off. But they said margins would have to develop well over the coming quarters, supported by cost cuts, to convince investors that the tide has turned.
Of 10 banks and brokerages in a Reuters poll, only one recommended that investors buy shares in Metro, while the rest had "hold" or "underweight" recommendations. Credit Suisse rates Metro "neutral".
The Metro group - which runs cash & carries, hypermarkets, department stores and electrical goods shops - reported earnings before interest, tax and special items (adjusted EBIT) rose 2.5 percent to 314 million euros in the quarter.
Analysts had on average predicted a 2 percent decline to 300 million euros. Sales met expectations at 15.8 billion euros.
Metro's stock has lost 45 percent of its value over the past year and with a market value now of 6.8 billion euros the company is at risk of dropping out of the DAX index of leading German shares.
The shares trade at 7.6 times forecast 2012 earnings, compared with 10.4 for
Carrefour
and 9.0 for
Tesco
.
© Thomson Reuters 2022 All rights reserved.