Metro warns euro crisis hitting Xmas trade
FRANKFURT - Metro, the world's No.4 retailer, issued a profit warning that sent shockwaves through the sector on Tuesday, saying Christmas trading had started slowly and the euro zone debt crisis was undermining consumer confidence.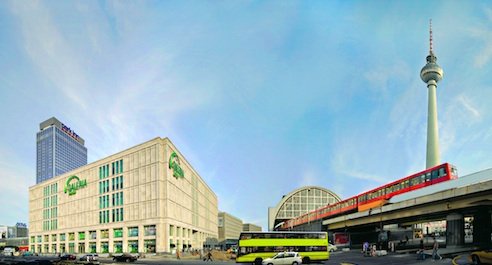 Galeria Kaufhof in Berlin's Alexanderplatz
Shares in the German group, which runs cash and carries, hypermarkets, electrical goods and department stores, slumped over 10 percent.
"We feel the resulting consumer restraint across all sales divisions and national borders," outgoing Chief Executive Eckhard Cordes said in a statement.
France and Germany are frantically working on a convincing agreement for how to solve the euro zone debt crisis, which has been spooking businesses and consumers for months. Ratings agency Standard & Poor's has warned it may carry out an unprecedented downgrade of the countries in the region should leaders fail to deliver in a summit on Friday.
Metro, world number four behind Britain's Tesco, France's Carrefour and U.S. industry leader Wal-Mart , said it expected both sales and earnings before interest, tax and special items to come in below 2010 levels, should weak Christmas trading continue.
Previously it had forecast earnings growth of at least 5 percent, even without a good Christmas.
A Metro spokesman said shoppers were particularly holding back on purchases of consumer electronics and clothing, sold mostly through its MediaMarkt, Saturn and Kaufhof stores.
He said quiet sales last weekend, traditionally the second week of the Christmas shopping season, had prompted the profit warning from Metro, which usually waits until January to give details of Christmas trading.
Bernstein analyst Chris Hogbin said the warning did not augur well for rivals like Tesco, which reports third-quarter sales figures on Thursday, and particularly Carrefour, which is also highly exposed to euro zone countries.
Carrefour declined to comment on Christmas trading.
However, Hogbin said there were good reasons for thinking Metro was suffering more, because it sells a higher proportion of discretionary non-food goods, where shoppers are making the biggest cut backs.
"For Metro, the fourth quarter is disproportionately important. It's 70 pct of their full year operating profit, and secondly 50 percent of their business is non food," he said.
CHILL SPREADS TO GERMANY
Carrefour shares were down 5.6 percent, while the STOXX Europe 600 retail index was the worst performing in Europe, down 2.2 pct against a 0.4 percent fall in the index of top European shares.
"The start to Christmas business has so far distinctly lagged behind the prior year level," Cordes said.
Shoppers across Europe have been reining in spending this year as they fret about jobs, government spending cuts, rising prices and, more recently, the euro zone crisis.
Even in Germany, which had seemed more resistant but is now one of the top-rated countries being threatened with a credit rating downgrade, retail association HDE reported a quiet start to the first two weekends of Christmas shopping.
Bankhaus Lampe analyst Christoph Schlienkamp said Duesseldorf, one of Germany's top retail destinations, was quiet last weekend.
"The city was not crowded. It seems to be that customers are staying home and are only buying in small amounts."
Douglas, which sells smaller items such as books, perfumes and cosmetics, said it was pretty happy with trading in Germany.
"Sales are within our expectations and we are confident for the next 2-1/2 weeks up until Christmas Eve, with the most important days ahead of us," CEO Henning Kreke said in comments sent to Reuters on Tuesday.
The Metro profit warning adds to the challenges facing finance chief Olaf Koch, who will take over as CEO on Jan. 1 and already has his work cut out to repair relations with labour representatives, oversee a sale of department store chain Kaufhof and improve the fortunes of the Media-Saturn chain of consumer electronic stores.
Metro, with over 2,100 outlets in 33 countries, confirmed on Tuesday it had received a binding offer for Kaufhof from Austrian investor Rene Benko via his Signa vehicle. Benko said at the weekend he hoped to agree a deal by Christmas, although two other parties are interested in the chain.
Metro reported sales of 67.3 billion euros ($90.6 billion) and core earnings of 2.4 billion in 2010.
($1 = 0.7425 euros) (Reporting by Victoria Bryan; Additional reporting by Marilyn Gerlach, Matthias Inverardi and Dominique Vidalon, Editing by Mark Potter)
© Thomson Reuters 2023 All rights reserved.