Michelle Obama joins People "most beautiful" list
LOS ANGELES (Reuters) – Breast cancer survivor Christina Applegate made the cover of People magazine's 100 most beautiful people issue on Wednesday in a list that welcomed newcomers U.S. first lady Michelle Obama and "Twilight" heart-throb Robert Pattinson.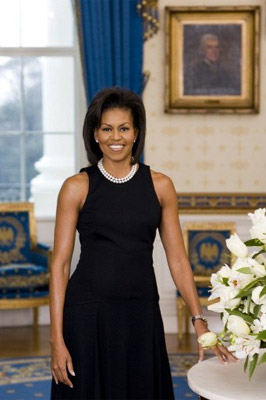 Michel Obama at the Whitehouse - Photo : Joyce Boghosian/AFP
Pattinson's vampire-loving co-star Kristen Stewart, teen music idols Nick and Joe Jonas and "Slumdog Millionaire" star Dev Patel also made the coveted list for the first time, in the celebrity magazine's annual issue that hits newsstands on Friday.
Applegate, 37, the star of the U.S. TV show "Samantha Who?," won admiration for going public last year about her breast diagnosis and later underwent a double mastectomy.
The actress, who has since undergone reconstructive breast surgery, told People in an interview it was hard to look at herself naked.
"You don't look the same anymore and you never will. A part of you is gone. ... It's a decision that you made to save your life," she said. It was Applegate's third appearance on the People list.
Michelle Obama, who has achieved celebrity status and has wowed the world as a fashion icon, made the list for the first time.
"I had a father and a brother who thought I was beautiful, and they made me feel that way every single day," Obama told the magazine.
"I grew up with very strong male role models who thought I was smart and fast and funny, so I heard that a lot. I know that there are many young girls who don't hear it. But I was fortunate," she added.
Also included in a "Barack's Beauties" section were
White
House chief of staff Rahm Emanuel, Treasury Secretary Timothy Geithner and others.
Pattinson, 22, who has a huge teen girl following after appearing in the "Twilight" movie blockbuster, said he didn't quite understand his heartthrob status.
"I don't get it. It's funny, you look the same for years and no one ever mentions it. Then suddenly it's a big deal," he told People.
The 100 list also included old favorites George Clooney,
Angelina Jolie
,
Brad Pitt
and Halle Berry. Some of the celebrities, including actress
Eva Mendes
and supermodel
Cindy Crawford
appeared in a "Stars Without Makeup" section in which they were photographed wearing no make-up for their close-ups.
(Reporting by Jill Serjeant; Editing by Bob Tourtellotte and Cynthia Osterman)
© Thomson Reuters 2023 All rights reserved.