Mulberry says FY results to beat market view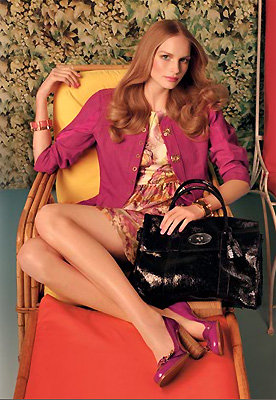 Mulberry spring-summer 2009
* Says UK trading stronger than expected * Like-for-like sales during Christmas, Jan up 30 pct
* Maintains outlook for year to end-March 2010 * Says global economic outlook still uncertain (Adds details)
March 5 (Reuters) - British fashion retailer Mulberry Group Plc (MUL.L) said on Thursday it expected its full-year results to be ahead of market estimates led by a stronger-than-estimated trading performance in the UK.
However, the company said: "Despite the strong trading in the UK since Christmas, the global economic outlook remains very uncertain and European and International partners are adopting a cautious approach to placing orders for the Autumn 2009 season."
The luxury fashion brand specialising in the design and manufacture of leather goods said its expectations for the next year ending March 31, 2010 remained unchanged.
During the Christmas week ended Dec. 27, 2008 and throughout January, the UK retail business achieved significantly stronger sales than expected with like-for-like sales up more than 30 percent, compared to the same period a year ago, Mulberry said.
The company said its margins were maintained during the period as it did not go into sale until Boxing Day and controlled the level of markdown during the January sale.
Sales improved in the last two weeks of February after a slow start to the month due to bad weather.
"The initial reaction to the new Spring 2009 collection has been encouraging," it said. (Reporting by Tresa Sherin Morera in Bangalore; Editing by Gopakumar Warrier)
© Thomson Reuters 2023 All rights reserved.