N Brown says austerity won't stop it growing
(Reuters) - Home shopping group N Brown Group Plc (BWNG.L) is confident of raising profits this year, arguing its older clientele should prove resilient to austerity measures, which anyway might prove less severe than feared.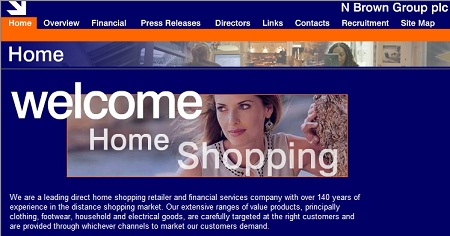 NBrown.co.uk
The Manchester-based company, which targets older and larger shoppers with clothing brands such as
Simply Be
, Oxendales,
Marisota
and Jacamo, said it was well placed because its customers, with an average age of 57, were less exposed to unemployment.
And it said government spending cuts in next week's budget review may have a less dramatic impact on consumer spending habits than might be expected.
"I rather suspect the government will do with the public spending cuts what it did with the (June 22) emergency budget," Chief Executive Alan White told Reuters on Tuesday after N Brown beat forecasts with a 5.5 percent rise in first-half profit.
"It makes it sound like it is going to be absolutely desperate and then it won't be quite so bad. The actuality might not be quite as bad some of the rhetoric that has been around," White said.
The CEO said N Brown's current trading was "quite solid" and forecast it would continue to be so as long as interest rates remained low.
LOWER GROWTH
An industry survey on Tuesday said retail sales growth halved in September, led by a drop in big-ticket items as uncertainty ahead of the government's October 20 spending announcement made consumers nervous. Prior to Tuesday's update, shares in N Brown had increased 8 percent over the last six months, outperforming a 5 percent rise in the general retailers index .FTASX5370.
The stock was up 2.4 percent at 248.7 pence at 8:32 a.m., valuing the business at 688.5 million pounds.
"We continue to believe its valuation is undemanding and are attracted by its strong market position in a growing outsize market," said Kate Calvert, analyst at Seymour Pierce.
N Brown made a underlying pretax profit of 44.1 million pounds in the 26 weeks to August 28. That compares with analysts' consensus forecast of 43.1 million pounds, according to a company poll, and 41.8 million in the same period last year.
Revenue increased 3.2 percent to 349.7 million pounds, reflecting a 17 percent rise in sales over the Internet, the expansion of the Jacamo and Marisota brands and the recent acquisitions of Figleaves and High and Mighty.
Gross margin rose 0.6 percentage points to 53.7 percent as bad debts reduced significantly.
The firm said sales grew 5.1 percent in the six weeks to October 9 and were up 2.1 percent on an underlying basis.
N Brown launched its Simply Be website and catalogue in Germany in 2009 and started a similar trial in the United States in August, which it said had gone well.
White said in June he would consider takeover opportunities in Germany and the U.S. in two to three years' time to drive growth if the trials proved successful.
N Brown is paying an interim dividend of 5.04 pence, up 15.1 percent.
(Editing by Rhys Jones and David Holmes)
© Thomson Reuters 2023 All rights reserved.