Neiman Marcus posts third-quarter loss
By Ian Sherr
CHICAGO (Reuters) - Upscale retailer Neiman Marcus (NMRCUS.UL) posted a third-quarter net loss on Wednesday 10 June as sales continued to slide as consumers spend less on higher-priced items in the recession.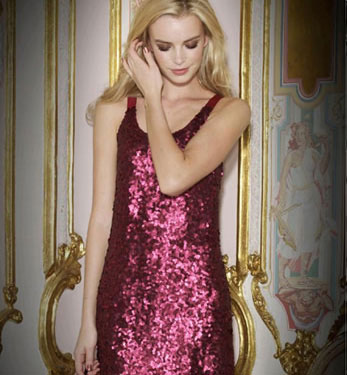 Eveningwear at Neiman Marcus
The company reported a net loss of $3.1 million compared with earnings of $55.4 million in the prior year. Revenue fell almost 24 percent to $810.1 million from $1.06 billion last year.
In stores open at least a year, the company said revenue decreased 20.8 percent in the quarter. It posted a same-store sales decline of 23.3 percent in May.
Neiman Marcus, which runs both its namesake and Bergdorf Goodman stores, said it would continue to sell its clothing and accessories at full price.
"We're not vacating the top price point," Chief Executive Burton Tansky said on a conference call, where he also described cost-cutting measures being implemented to offset lower sales.
The company's plan, which mirrors rival Saks' (SKS.N) efforts to move away from deep discounts, comes after high-end and lower-priced retailers resorted to heavy markdowns during last year's holiday sales season to attract customers.
While Neiman Marcus is trying to hold onto its prices, it is putting other cost-cutting measures in place, such as reassessing planned store openings and working with suppliers to offer a wider variety of lower-priced merchandise.
Earlier this year, Neiman said it planned to cut 375 jobs, or about 3 percent of its workforce. The company has 15 percent fewer associates compared with last year, and 18 percent fewer than two years ago.
Neiman Marcus, like other upscale retailers Saks and Nordstrom Inc (JWN.N), has taken a deep hit as even shoppers who frequent higher-end stores cut back on spending.
"It can be challenging to adjust customers to a full-price mentality when so much has been sold at a discount," Tansky said.
(Reporting by Ian Sherr; Editing by Maureen Bavdek and Brian Moss)
© Thomson Reuters 2022 All rights reserved.