New Era looks beyond the cap
From Montreal to San Francisco, every baseball, basketball and american football team has seen its colors grace the famous baseball-cap. And in this domain, New Era has established itself as a major-league player. Building upon the visibility offered by U.S. sports, the native East Coast brand specializing in "headwear" has built its business on the American continent as well as internationally.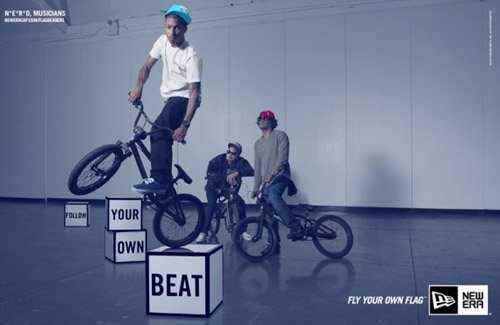 New Era ad. Aside from sports, the brand plans to profit from the street-fashion trend.
Today, the brand intends to diversify its activity. Having already taken its caps beyond the world of sports, it wants to venture further; it has just announced that it plans to double its production volume by 2015. New Era, which has already made some forays into apparel and accessoires, is counting on becoming a lifestyle brand in and of itself. " We have an aggressive growth plan with the goal of developing our business beyond our original field of expertise and to position ourselves as an international lifestyle brand, "said New Era CEO Chris Koch.
To achieve its goals, the brand is being restructured. In particular, it is reinforcing its product and marketing teams and investing in the development of its apparel and accessories lines. It plans to expand its apparel lines, which already include several T-shirts, cardigans and polos. To do so, the brand plans to rely on product licensing deals, just as it had already done with sports organizations, as well as to concentrate on New Era branded products for men and women, before tackling the childrens market.
As such, New Era plans on hiring an additional 140 employees. "We are looking for people who understand the global economy and have experience working with a large company in terms of marketing, sales management, human resources, customer service, sourcing and logistics," explained
Dana Marciniak
, the brand's Corporate Communications Manager, "which is why we have recently hired people from
Disney
and Nike."
New Era has therefore created a team for the brand's international development, which will oversee its expansion into the various markets. "The strategy and objectives will be determined by the international team," explains Dana Marciniak. The approach and implementation will be tailor made for each regional team so as to offer products and communications that best respond to the local consumer." The European team is based in Great Britain, but also has a sales office in Paris, thus always remaining true to its approach of thinking locally.
Copyright © 2021 FashionNetwork.com All rights reserved.