New Look aims to replicate H&M with overseas push
By Mark Potter
LONDON (Reuters) - Budget fashion chain New Look believes it can replicate the success of Sweden's Hennes & Mauritz (HMb.ST) as it laid out its international expansion plans ahead of a planned return to the stock market next month.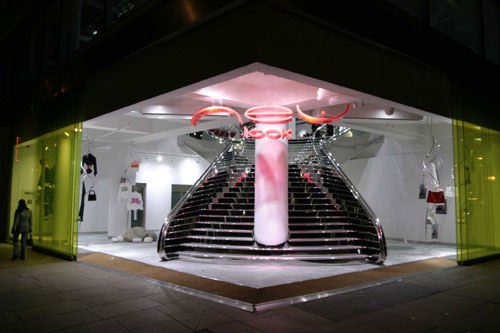 New Look
Finance Director Alastair Miller told Reuters on Friday 5 February that New Look remained "absolutely focussed" on its initial public offering (IPO), despite choppy financial markets which have seen flotation's scrapped in both Europe and the United States in recent days.
"Nobody's found the last couple of days comfortable at all. But it's two days, and one thing we're very confident about is our own business," Miller said in a telephone interview.
New Look is often compared with mid-market British clothing retailers like Next (NXT.L) and Marks & Spencer (MKS.L).
But its sales growth has consistently outperformed these companies in recent years, and Miller believes that with a focus on faster-growing budget and youth markets, as well as ambitious international growth plans, it is more akin to Sweden's H&M.
"Our market positioning is very similar to H&M," he said.
"We think there is a ready-made model out there which can be replicated and that's what gives us the encouragement for our international expansion."
New Look runs more than 1,000 stores, including just over 600 in Britain, more than 50 wholly-owned stores in Ireland, France, Belgium and the Netherlands, and over 40 franchised stores, mostly in the Middle East and eastern Europe. It also operates over 300 Mim boutique stores in France and Belgium.
The group plans to open around 100,000 square feet of wholly-owned selling space a year, equivalent to around 10 stores, over the coming years, broadly in line with its recent expansion rate, Miller said.
This will initially focus on existing western European markets, although the group will look to trial stores in Spain, Germany and Italy when economic conditions improve.
It also aims to add around 100,000 square feet of selling space via franchised stores over the coming year, rising to around 200,000-250,000 in about three years time, Miller said.
© Thomson Reuters 2023 All rights reserved.