New York & Co posts Q1 loss, shares tumble
May 21 (Reuters) - New York & Co Inc (NWY.N) posted a first-quarter loss and a 15 percent drop in same-store sales, and said it expects a similar trend in the second quarter, sending the women's-apparel chain's shares down 23 percent.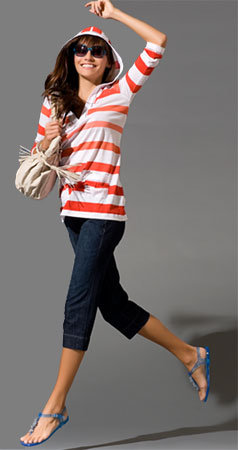 New York & Company, Spring 2009
For the first quarter ended May 2, the company reported a net loss of $4.9 million, or 8 cents a share, compared with a profit of $6.7 million, or 11 cents a share, a year ago.
Revenue fell 14 percent to $232.9 million.
Analysts on average expected New York & Co to post a loss of 8 cents a share, before special items, on revenue of $240.5 million, according to Reuters Estimates.
"As we look ahead, the environment remains challenging and while we believe our assortments are fashion right, we continue to see customers reluctant to purchase at regular price," Chief Executive Richard Crystal said in a statement.
The company's shares were trading down 91 cents at $3.66 on the morning of Thursday 21 May on the New York Stock Exchange.
For alerts, please double-click (Reporting by Santosh Nadgir in Bangalore; Editing by Anne Pallivathuckal)
© Thomson Reuters 2023 All rights reserved.