Nicopanda shows offers fastest fast fashion, shows Formichetti star power
London Fashion Week's Nicopanda show at the weekend offered up a basket of firsts with Nicola Formichetti's label showing in London for the first time. And a debut see now, buy now capsule collection for Amazon strutted down the runway alongside the higher-end pieces.





There was no getting away from Amazon as the event itself took place at the e-tail giant's Hoxton mega-studio, the location decorated, Amazon-style, with masses of cardboard boxes.

With the show being big fashion news, it's easy to forget that Nicopanda is still a small operation, still finding its way, and a link-up with such a giant e-tail business is another ay of building both awareness and sales.
Not that awareness is lacking. Such is the reputation of Formichetti that the great and the good (including still-new British Vogue editor-in-chief Edward Enninful) trekked out to Hoxton even though the Burberry show start time was getting worryingly closer all the way across town.

With an audience prepared run as soon as soon as the show as over, it's no surprise that the models moved fast, very fast. This was fast fashion in its most literal sense.

And fastest was the capsule collection for Amazon. As if to emphasis the fact that shoppers could potentially get their hands on these pieces within an hour, the models zoomed down the runway carrying cardboard boxes. The two hoodies, the oversized bomber, long-sleeved tee, scarf, clutch bag and leggings were dubbed "see now, Prime now" with the collection also available for next day delivery across the UK, Germany, France, Spain and Italy.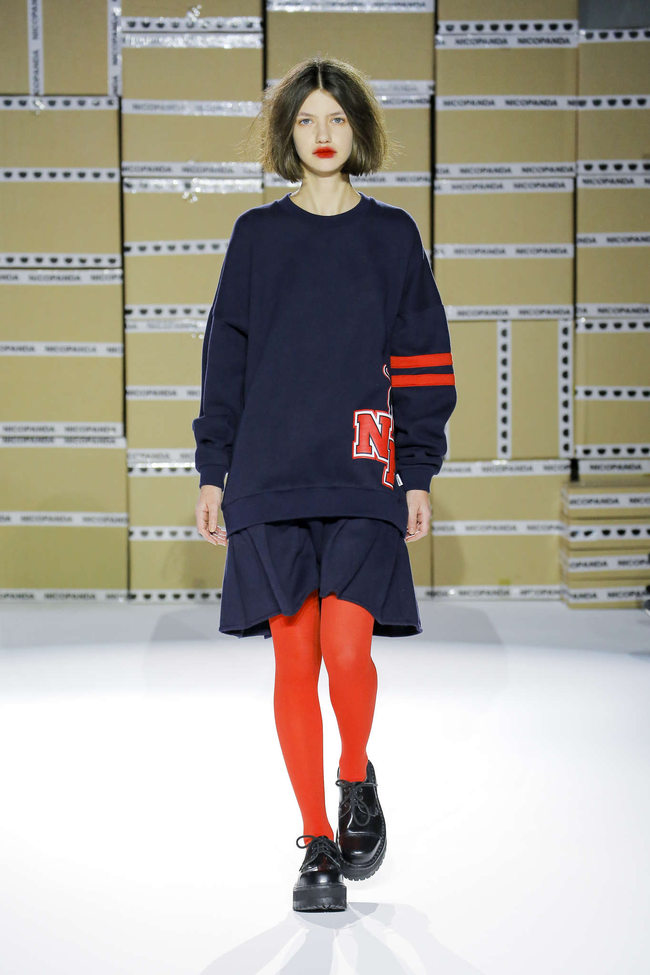 But Amazon aside, what else did we see on the runway? A fast-paced tribute to teenage tribes with Formichetti revisiting his favourite coming-of-age movies such as Dazed and Confused, The Breakfast Club and Jawbreaker. Or, more specifically, he revisited the cliques who made those movies so memorable. Think Jocks, Preps, Punks and Prom Queens.

It was all in line with a brand that knows its core customer is more youth label than designer label. And while the runway styling might minimise the commerciality (a ripped male model in bubblegum pink satin shorts with attached skirt/train), strip away all the noise and there was a strong commercial proposition.

The most commercial was a series of gym-to-street separates complete with sports stripe trimmed in lines of tiny ruffles.The teen theme continued with oversized navy varsity knits with the designer's initials in red, or a celebration of shine via a bubblegum pink vinyl frill-trimmed coat and matching pink dungarees. Then there were the punk princess baby doll silhouettes in searing pinks or intense lilac sheers teamed with jersey and black too-cool-to-care punk badges and ripped or logo leggings.

In fact, the logo was the big star, whether it was the Nicopanda symbol, the designer's initials or 'House of Formichetti' worn proudly across a hoodie. It underlined how this collection is still very much about Formichetti's star power. As we've seen, it's a power that can get Edward Enninful sitting patiently front row even if it might mean Christopher Bailey has to wait a while for his audience to arrive.
Copyright © 2022 FashionNetwork.com All rights reserved.