Nike 6.0 installs Roundhouse in Hossegor, France
Roundhouse is a true beach house, which certainly will appeal to teenagers on holiday on the Landes coast: a living room with a giant sofa which can be lounged on to check out surfing movies and the best known Point Break images, toilets which turn into photo booths so pictures can be sent to friends that are virtually connected. In the basement room, temporary tattoos, pinball, foosball, darts and a pool to cool off is all offered, not to mention free surf lessons.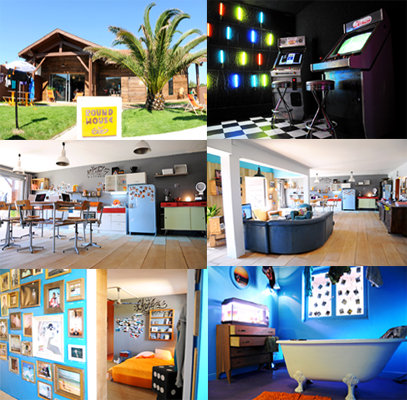 Nike 6.0 Roundhouse in Hossegor, France. Photos: Alex Laurel et Guillaume Ansselin
Nike
has released its best weapons and competes on the European surfing territory with surfing labels like
Quiksilver
and
Billabong
. Roundhouse is primarily an opportunity to familiarise their young target audience with Nike 6.0 surf collections and to have them adopted by the future surfing kings.
Besides, like its competitors, Nike puts before us its top surfing team consisting of Michel Bourez, Charly Martin, Nicolau Von Rupp and Naum Ildefonso. Simultaneously Nike 6.0 will open the "Motel No Tell" in Huntington Beach, California as well as Roundhouse in Hossegor.
Nike 6.0 was born in 2005, its colorful collection of shoes and garments target an (younger) audience of lovers of action sports like snowboarding, skiing, BMX, wakeboarding, motorbiking and of course surfing.
Nike 6.0 Roundhouse
Open every day from 10:30 a.m. to 7:30 p.m.
until August 27 in Hossegor
Copyright © 2022 FashionNetwork.com All rights reserved.