Nike quarterly net income rises 14 percent
June 28 - Nike Inc reported stronger-than-expected quarterly earnings on Monday as a 14 percent increase in revenue helped offset higher costs, and orders showed surprising strength for the future.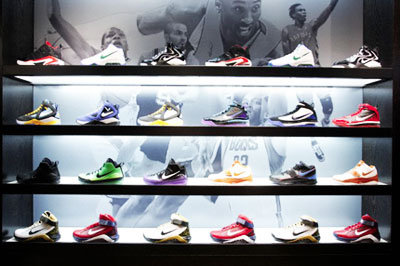 Basketball sneakers on display inside the House of Hoops in the FootLocker store at the Willow Brook Mall in Wayne, USA - photo: corbis
Nike shares gained 4.3 percent to $84.14 in after-hours trading.
The sports gear maker said net income for its fiscal fourth quarter, ended May 31, rose 14 percent to $594 million, or $1.24 a share. Net income for the year ago period was $522 million, or $1.06 a share.
Nike was expected to earn $1.16 a share, according to the average estimate of analysts surveyed by Thomson Reuters I/B/E/S.
Apparel retailers are struggling with higher material, labor and freight costs. But Nike was able to fend off such pressure because demand for its brand was so strong during the quarter, according to Matt Arnold, an analyst at Edward Jones.
Revenue for the quarter rose to $5.8 billion from $5.08 billion. Excluding currency movements, it increased 11 percent.
Analysts expected $5.528 billion of revenue for the period.
"The best way to offset higher costs is to generate strong demand growth and Nike was able to do that," Arnold said.
Futures orders, a closely watched measure of demand in coming months, came in ahead of Wall Street estimates. Orders for June through November jumped 15 percent to $10.3 billion. Excluding currency effects, orders rose 12 percent, Nike said.
Barclays Capital analyst Robert Drbul expected futures orders to be up 8 percent to 10 percent in constant dollars. Arnold, the analyst at Edward Jones, was expecting future orders to be up at least 8 percent.
Strong futures orders suggest Nike will be able to raise prices later this year, Arnold added.
Fourth-quarter revenue generated from Nike brands jumped 22 percent to $2.1 billion in North America, the company reported. The strongest growth came from running shoes, men's training gear, sportswear, basketball and women's training, which were all up at least 10 percent in the period.
Footwear sales were up 20 percent, while apparel revenue rose 28 percent, "driven by strong category presentations, improved product lines and earlier shipments of summer season product," Nike said in a statement.
Sales were partly driven by Nike Free, a new line of shoe that mimics barefoot running, Arnold said.
Nike also highlighted its direct-to-consumer business, which includes online sales. Sales were up 23 percent in this segment, with online sales rising 31 percent, the company reported.

(Additional reporting by and Phil Wahba; Editing by Robert MacMillan, Carol Bishopric, Sofina Mirza-Reid and Steve Orlofsky)
© Thomson Reuters 2022 All rights reserved.