Old Navy tries to right ship in topsy-turvy market
By Alexandria Sage
SAN FRANCISCO (Reuters) - The new "supermodelquins" greeting shoppers at the Old Navy store in downtown San Francisco sport relentlessly sunny smiles to accompany their cheery spring wardrobes.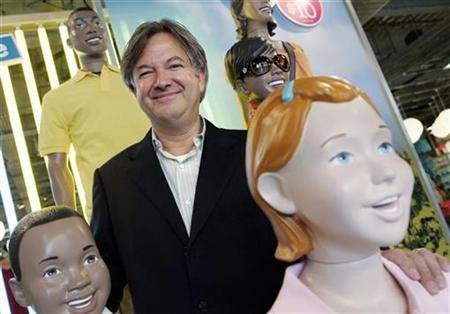 But despite the colorful show put on by the stores and the campy grins of the mannequins, Gap Inc's worst- performing unit is laboring hard to reverse four years of mediocre performance and a dark retail outlook.
So it's wait-and-see at Old Navy, the 15-year-old casual, lower-cost chain whose motto is "family, fashion and value" as executives hope once loyal customers will notice an ongoing transformation and come home.
The makeover, which began last year, is well on its way. More than just a return to Old Navy's irreverent advertising of years past, come August, all clothing will be aimed at the target 29-year-old customer who shops for her family and herself and whom the company calls "Jenny."
"Obviously, we're optimistic we're headed in the right direction," said Old Navy President Tom Wyatt, pointing out new spring selections such as colorful flip-flops for kids, graphic T-shirts for $10 and dresses for $15 as he walked through the San Francisco store recently.
"Jenny's got to vote now. The customer has accepted the product. To the level we want them to? That's the journey," added Wyatt, wearing a pair of Old Navy jeans.
On paper at least, Old Navy should improve this spring because a major gaffe last year could help sales look better in coming months.
Last spring, under Wyatt's predecessor, the brand skewed too far toward trendy fashions, alienating young mothers clothing their families or men picking up comfortable T-shirts, cargo pants or shorts.
In a recent note, Goldman Sachs analyst Michelle Tan wrote that Old Navy, which contributes 36 percent of Gap's total sales, was reaching a "potential positive inflection point."
Gap posts its March sales results on Thursday.
Due to that year-ago fashion snafu -- which sent Old Navy's March 2008 same-stores sales plummeting 27 percent -- the chain should now see substantially better sales comparisons "on top of notable product improvements" and a marketing push starring the supermodel mannequins, Tan said.
An improvement is overdue. Old Navy has not had positive same-store sales since March 2007, so any rise would be a rare bit of good news in a four-year string of mostly negative or flat same-store sales.
Key managers are now in place, Wyatt said, with a new merchandising officer just starting out. The brand's former creative director, designer Todd Oldham, recently sued Gap, claiming it reneged on a promise for a Todd Oldham line. Gap, which terminated Oldham's contract, has countersued.
Gap shares are down 25 percent from a year ago, but have risen 11 percent since April 1.
"SCREAMING" VALUE
Besides the improvement in product -- focusing on fun, yet safe fashions, de-emphasizing skimpy bikinis and too-dressy looks and bringing back past hits such as flag T-shirts and logo Ts -- Old Navy has reconnected with value, Wyatt said.
Over the past year, as Old Navy was tinkering with its product and image, rivals took market share as they attracted recession-weary shoppers with bargains. But Gap Chief Executive Glenn Murphy has said improvements at Old Navy justified the cost of Old Navy's new marketing push that focuses on value.
"We believe we got a little too sophisticated last year, we got a little bit too expensive last year," Wyatt said. "When we said we're going to be consistent about the value message throughout the store, that's when $39.50 dresses went away and $15 dresses came in."
Other bargains Wyatt said can match anything offered by rivals such as Kohl's Corp, Target Corp or JC Penney Co Inc are $9.50 sunglasses, two pairs of flip-flops for $5 and eight pairs of baby socks for $10.
A goal for Wyatt has been to bring consistency to Old Navy, from assortment to pricing. That means a cheery spring print might show up in dresses for girls and women, and girls' flip-flops will not be priced higher than their mothers'.
And go-to bargain areas for basics, whether denim or Old Navy's shop for goods priced $5, $10 and $15, will always remain in the same place so as not to confuse shoppers.
Stores need a tuneup, too. Old Navy is on the cusp of a major remodeling of its fleet of 1,067 stores, which Wyatt acknowledged is looking "tired."
The chain, which is closing a net 15 stores in 2009, will focus on smaller stores with a racetrack inspired format designed to better showcase clothes. Dressing rooms and cashiers will be centralized. Kids will get a play area.
Wall Street points to Gap's nearly $2 billion in cash as a plus when it comes to right-sizing square footage of the entire Gap fleet by 10 percent over the next three to five years.
"It's about how do we make that store more productive, how do we reduce our overall costs ... and at the same time, how do we create a better shopping experience for her," added Wyatt thinking of Jenny.
(Editing by Edwin Chan and Andre Grenon)
© Thomson Reuters 2021 All rights reserved.