Olivier Theyskens, future artistic director of Elsa Schiaparelli?
Asleep since 1954. But since Prince Charming, Diego Della Valle (owner of Tod's), bought the rights in 2007, rumours about a grand return for the fashion house Elsa Schiaparellia have pulsed through the fashion world. Sleeping Beauty could be ready to wake up.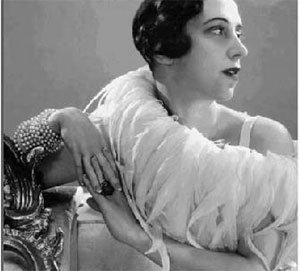 Cover of the book "Shocking! The Art and Fashion of Elsa Schiaparelli"
Even though
Gareth Pugh
has long been on everyone's lips to take over the precious flame of artistic direction, it could be
Olivier Theyskens
who, according to our source, could take the role in the end. Fresh from a split with
Nina Ricci
, at which the British man
Peter Copping
(ex-
Louis Vuitton
) has taken the reins for design, the Belgian designer could therefore be getting down to business not on his own label but, for the moment, in an entirely different adventure.
Born in the 1920s, with the opening of its first boutique in Paris in 1928, Elsa Schiaparelli did not go unnoticed in the fashion sphere. Extravagant and innovative, the Italian-Egyptian stylist knew how to stick in people's minds with her creations that were audacious, humorous, immoderate and used shocking colours or material or diverting elements. Surrounded by all the biggest names, spurred on by surrealism, Elsa Schiaparelli worked with Salvador Dali, Jean Cocteau and Picasso and like them prided herself on challenging established ideas.
Some called her the rival of Coco
Chanel
before her fashion house bowed out in 1954 and the stylist herself left us in 1973 at the age of 83.
By Jonathan Fulwell (Source: Julie Mangaud)
Copyright © 2023 FashionNetwork.com All rights reserved.