Pamela Anderson shakes up Vivienne Westwood show
By Sophie Hardach
PARIS (Reuters) - Actress Pamela Anderson wiggled down the catwalk to a whooping audience on Friday and Vivienne Westwood told fashionistas to fight economic crisis by wearing a back-to-front shirt.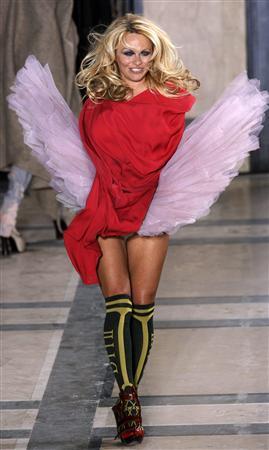 Huge safety blankets folded into coats and out-of-control pink tulle added Westwood's trademark rebellious touch to the show, culminating in Anderson twirling down the catwalk first in a tutu and then in a skin-tight T-shirt.
Backstage after the show on the elegant Place Vendome a few steps away from the French justice ministry, orange-haired Westwood shared a few tips for dispelling the economic gloom as the Paris womenswear shows got into full swing.
"Buy less, choose well, mix it all. Wear your shirt back to front, that way you get two ways of wearing your shirt," British designer Westwood told reporters.
Apart from the tulle extravaganza, she included a range of dresses and jackets that could easily be worn to the office, continuing the trend towards wearable, sellable pieces seen in New York and Milan.
Asymmetric wrap dresses and tunics in sea green and greyish blue, a black pinstripe dress and draped tops were meant to give shoppers the option to buy one special piece and combine it with whatever they had in their wardrobe.
"I still sell a lot of stuff, it doesn't seem to affect me," Westwood said about the downturn that has hit retailers from highstreet labels to luxury brands.
CLIMATE CHANGE
She then said she wanted to "hijack" her fashion show to talk about climate change, describing it a much greater threat than economic meltdown.
"We're in a terrible state. We need to save the human race," she added with a sigh.
With her roots in punk rock, Westwood is known for injecting political messages into her shows. But even at Christian Dior, not normally known to display social concerns, the crisis was making an impact.
While Dior challenged the recession only a few weeks ago with a dazzling haute couture show full of Marie Antoinette ballgowns, the autumn/winter collection tried to strike a balance between dreamy creativity and sober clothes that sell.
After the show, Chief Executive Sydney Toledano said he was worried about the social consequences of the downturn.
"We are here, super cool," he told reporters, gesturing to the champagne-sipping fashion crowd around him, "But we see the unemployment and all that."
Designer John Galliano looked to the East for inspiration, with fur-trimmed Genghis Khan hats and coats with fur cuffs, floaty canary yellow and cherry red dresses with silver or turquoise embellishments, and heavy jewellery.
But like other designers this season, he added several more practical outfits. Puffball skirt suits, jackets with balloon sleeves and matching skirts came in a colour that matched the wider mood: grey.
© Thomson Reuters 2023 All rights reserved.