Paule Ka signs first license agreement
Until recently, Paule Ka only conducted business within the company itself, but the women's fashion brand, created by Serge Cajfinger, has just signed its first license agreement with the eyewear company L'Amy until 2016 for eyeglasses and sunglasses. L'Amy has previously worked with brands such as Chloé, Nina Ricci and Proenza Schouler. The sun glasses line will come out in the market this June, soon followed by the eye glasses one in September. Serge Cajfinger is considering other license agreements in the future, possibly within lingerie or children's wear, but also dreams about one day creating a perfume called Paule Ka. "These are all products dedicated to women, and it is necessary to work with specialists", he commented. Cajfinger has also decided to re-create the Black Carpet collection that he launched last Summer, which consisted of evening gowns priced up to 3,000 euros, only this time he has created more pieces (25 instead of 20 in 2010).


Founded in 1988, Paule Ka has little by little gained a clientele of people fascinated by the Parisian fashion: elegant and wearable. "I am trying to appeal to women who simply want to be beautiful and not fashion victims. The designer has to adapt his dreams to their reality", Serge Cajfinger explains. He creates entire outfits and , each season, offers from 400 to 500 pieces which can include dresses, accessories, cardigans, shoes, etc.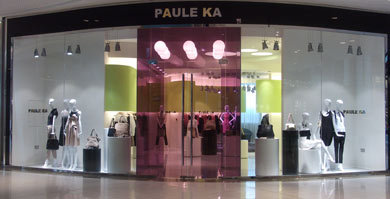 Boutique in Dubai
Paule Ka is currently sold in around 400 retailers, of which 50 are in France, and can be found side by side with brands such as
Lanvin
,
Sonia Rykiel
, Brunello Cuccinelli or Burberry. It also has around 8 self-named boutiques (4 in Paris, 1 in Cannes, 1 in Brussels and 2 in London) and around 7 franchises in Hong Kong, Koweit, Kuwait, Dubai, Maastricht and France (Lyon and Toulouse). The brand has plans to extend its network with an addition of 2 to 4 new boutiques. "I would love to open a store in New York this year, and in Madrid too of course", the founder said. For its last end-of-year report, ended on July 31st 2010, Paule Ka recorded a turnover of approximately 35 million euros, of which 55% was made from sales abroad. Preorders for its Spring/Summer 2011 collection are up 20%.
Copyright © 2023 FashionNetwork.com All rights reserved.