Penney's U.S. February sales down
J.C. Penney Co Inc's February sales are down from last year, its chief executive said on Friday, as the retailer tries to get shoppers used to a new pricing strategy that does not include the discounts that hurt margins.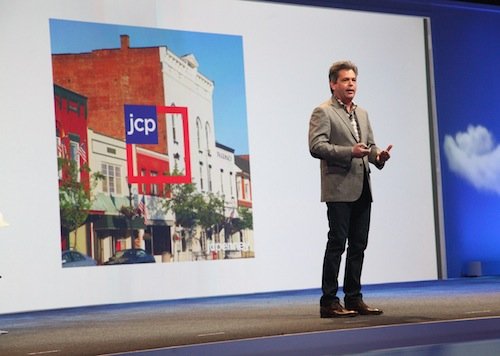 jcpenney President Michael Francis announces the new jcpenney strategy the jcpenney launch event at Pier 57 on January 25, 2012 in New York City. (Photo by Astrid Stawiarz/Getty Images for jcpenney)

The company also posted a fourth-quarter loss due to costs from the change in strategy, which eschews discounts in favor of lower but consistent prices on a monthly basis.
But the department store operator also said there are early signs customers are taking to the new pricing model. Chief Executive Ron Johnson said sales were strong in apparel but weaker in home products and fine jewelry.
Penney implemented the new strategy earlier this month.
When Penney unveiled its transformation plan last month, many analysts predicted the department store chain would lose some core shoppers, who are accustomed to a regular flow of deals, at least temporarily.
Despite the February sales trends, Johnson said Penney's plan was on track.
"We are confident that the benefits of our simplified business model will more than offset the sales decline so we can meet or exceed our 2012 earnings guidance," Johnson said in a recorded message.
Johnson, a former
Apple
Inc executive who took the reins in November, said initial customer surveys showed shoppers liked what they are seeing so far, including less-cluttered stores and less in-store signage, and that they find the pricing model easy to understand.
The retailer wants to wean shoppers off discounts, which over the years have eaten in to gross profit without preventing a loss of market share.
The soft February sales, which Penney did not quantify, follow a holiday quarter that saw Penney's same-store sales fall 1.8 percent, contributing to a sharp drop in its gross profit margin.
Gross margin fell 7.4 percentage points to 30.2 percent, hurt by weak sales that prompted the department store chain to cut prices.
For the fourth quarter ended on Jan. 28, Penney reported a net loss of $87 million, or 41 cents per share, compared with a year-earlier profit of $271 million, or $1.13 per share.
Efforts to implement the new pricing and promotional strategy hit earnings by 59 cents per share, Penney said.
Overall sales fell 4.9 percent to $5.43 billion, hurt by Penney's exit from its catalog business.
Mid-tier chains such as Penney and its most direct rival,
Kohl's
Corp, found themselves squeezed between higher-end retailers like
Macy's
Inc, which drew more affluent shoppers, and companies like
Target
Corp and
Wal-Mart
Stores Inc, which attracted shoppers on a budget.
On Thursday, Kohl's also reported a holiday-quarter fall in same-store sales. The company expects comparable sales to rise 2 percent this year.
Penney reiterated its forecast of an adjusted profit of $2.16 per share this fiscal year. But the 1,100-store chain did not give a sales forecast.
Penney shares were down 0.4 percent at $41.76 late on Friday morning.
By Phil Wahba
© Thomson Reuters 2023 All rights reserved.