Penthouse owner offers $210 mln for Playboy
NEW YORK, July 15 (Reuters) - The desire for adult-themed entertainment is heating up. The owner of Penthouse magazine on Thursday offered to buy rival Playboy Enterprises Inc (PLA.N) for $210 million, making a bid that was 13 percent above the buyout proposal from Playboy's iconic founder Hugh Hefner earlier this week.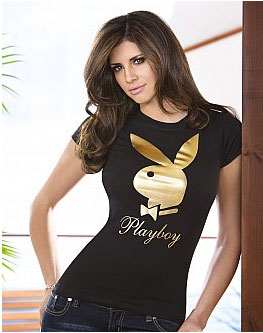 www.shopthebunny.com
To sweeten the deal, Penthouse publisher FriendFinder Networks said Hefner is welcome to retain editorial control of Playboy magazine and to continue to reside in the Playboy Mansion -- a property valued at roughly $40 million, including art, according RBC Capital Markets estimates.
Hefner "built a cultural icon and he is a cultural icon," FriendFinder Chief Executive Marc Bell told Reuters in a telephone interview. "He is trying to protect his legacy. We would love nothing more than to help him achieve his goal, protect his legacy and really become a partner."
A company synonymous with bunny ears and centerfolds, Playboy has been struggling to put its business back on course as circulation and advertising revenues decline with people flocking to the Internet for free pornography.
FriendFinder proposed to give Playboy shareholders $6.25 a share, above the $5.50 per share, or $185 million, from Hefner and his partner Rizvi Traverse Management.
Hefner, 84, already owns around 70 percent of Playboy's Class A common stock and 28 percent of its Class B stock. Shares of Playboy closed up a penny, or 0.2 percent, at $5.52 on the New York Stock Exchange on Thursday.
Playboy said in a statement it received FriendFinder's proposal and the board would give it "appropriate consideration."
Several individual shareholders have filed suits against Playboy alleging that Hefner's offer was not in the best interest of stakeholders. Hefner's offer had represented a 40 percent premium to Playboy's market price at the time.
Marc Boyar of Boyar Asset Management, which owns a 1.3 percent stake in Playboy, said that both Hefner and FriendFinder's offers were inadequate. He predicted that if Playboy remained a publicly listed company, its shares would double in about two years.
"I think people actually are starting to believe this company is in the early stages of a really promising turnaround," said David Bank an analyst with RBC Capital Markets.
CULTURAL ICON
With $600, Hefner kickstarted a shift in cultural thinking about sex when he launched the first issue of Playboy with a partially nude photo of Marilyn Monroe in 1953.
"The word playboy became metaphoric for a very distinctive lifestyle," said Robert Thompson, professor of popular culture at Syracuse University.
Hefner turned Playboy and its bunny head logo into a symbol for a lifestyle he embodied as bachelor extraordinaire, living in a mansion surrounded by wealth and beautiful women.
But after the 1970s, Playboy began to fade. Hefner was forced to let go of some trappings such as a private jet plane with a bedroom, a miniature disco and a kitchen, according to Steven Watts, author of "Mr. Playboy: Hugh Hefner and the American Dream."
Hefner, though, has managed to stay in the spotlight. "He's kind of like Betty
White
in that regard, he never goes away," Thompson said.
In an effort to get some of its luster back, Playboy appointed Scott Flanders, the former CEO of Freedom Communications and the publisher of the Orange County Register, as its top executive last year. Previously, Christie Hefner, Hugh Hefner's daughter, ran the company.
While Flanders has been at the helm he has cut costs, outsourced the magazine's production except for its editorial content and struck licensing deals with clothing makers, casinos and clubs.
"There is still some value but for the the most part it not necessarily a growing business," said Rick Munarriz, a senior analyst at The Motley Fool.
With Flanders' appointment, speculation mounted that Hugh Hefner was looking to exit the business he had controlled for more than 50 years as Playboy searched for a potential buyer.
Late last year, Playboy was in talks to sell itself to
Iconix Brand Group
Inc (ICON.O), a company that licenses clothing brands such as Joe Boxer, but no deal was reached. Iconix said in June it was no longer looking at a potential licensing deal with Playboy because it was "uncomfortable" with some of Playboy's businesses.
FriendFinder's Penthouse faces similar business challenges to Playboy.
"Penthouse is under the same pressures of trying to become viable in this digital age," said Brad Adgate, senior vice president of research at Horizon Media. "I don't know what they would do that would be anything substantially different."
FriendFinder, which hired Imperial Capital LLC as its financial adviser, said it had contacted potential financiers and was confident it would have the funds available for the acquisition.
FriendFinder said its deal could value Playboy's equity at more than $210 million depending on the results of due diligence and updated financial data.
Reporting by Jennifer Saba, additional reporting by Franklin Paul and Alex Dobuzinskis, editing by Tiffany Wu, Gerald E. McCormick and Tim Dobbyn)
© Thomson Reuters 2023 All rights reserved.