Permira closes in on fashion house Valentino
By Claudia Cristoferi and Rachel Sanderson
MILAN/LONDON (Reuters) - Private equity firm Permira PERM.UL is in exclusive talks to buy more than half of famed Italian fashion house Valentino V.MI, it said on Friday, dimming the chances of a bid battle with U.S. rival Carlyle.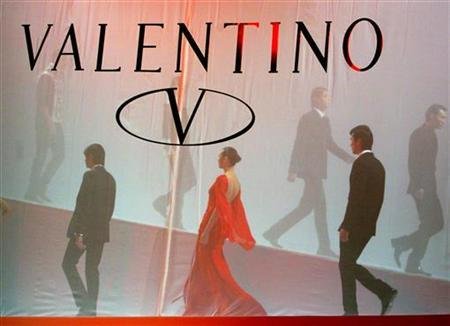 Sources close to negotiations said the move by London-based Permira had almost certainly shut out the prospect of Carlyle launching a counter bid for Valentino, whose wardrobe of brands also includes Hugo Boss and Marlboro Classics.
Permira said it was negotiating with majority shareholders the Marzotto family to pay 35 euros a share excluding a dividend for 24 percent of Valentino, valuing the company at 2.6 billion euros ($3.5 billion). It already owns 29.6 percent.
Should it succeed, Permira would be forced under Italian law to launch a full takeover of the fashion house famous for dressing stars such as Julia Roberts, Sophia Loren and Jackie Kennedy Onassis in its floor-sweeping gowns.
Valentino stock fell more than 4 percent to 35.2 euros as investors saw the prospect of a bid war ebb. It hit a record on Thursday on expectations Permira and Carlyle would compete for the house founded by Valentino Garavani 45 years ago.
"The game is more or less over," one of the sources close to the negotiations said.
Private equity firms are showing increased interest in the fashion world with no sign of a let-up in booming sales of luxury goods in emerging economies like China, India and Russia.
Shares in Hugo Boss rose nearly 3 percent on Friday amid expectations Permira will be forced to buy the company if it succeeds in its takeover of Valentino Fashion.
FROCK FINANCE
Permira's move follows Change Capital's purchase of Jil Sander from Prada last year while TowerBrook Capital Partners bought out shoemaker Jimmy Choo in February.
Valentino is one of the world's most recognized fashion brands and analysts said private equity had plenty of potential to expand it internationally and into younger, cheaper ranges.
Italian designers Giorgio Armani and Dolce & Gabbana have created money-spinners by launching junior ranges Emporio Armani and D&G which sell skinny jeans for $200.
A Valentino signature red gown can cost $10,000.
Valentino trades at 25.5 times estimated earning for this year compared with 19 times for France's LVMH , the world's largest luxury goods group, providing an indication of the potential investors see for the Italian house's growth.
Permira's exclusive negotiations, with shareholders from the Marzotto family -- Valentino's majority owners and one of Italy's oldest fashion and textile clans, will expire on May 28.
Carlyle had been considering offering as much as 36 euros per share for the whole of Valentino before Permira swooped in to buy more than a quarter of the stock, disrupting its plans, sources close to the matter told Reuters this week.
The U.S. private equity giant said on Thursday it had not yet made a final decision on whether to bid.
The Marzotto family, which controls Valentino through several holding companies, including Tidus Srl and PFC Srl, spun off its fashion assets in 2005 to create Valentino Fashion.
Permira said in its statement its negotiations involved the possibility of those shareholders retaking a stake in Valentino should it gain control.
Holding company Canova Partecipazioni, which owns a 19 percent stake and is co-managed by Valentino Fashion Chairman Antonio Favrin, said in a statement it was staying on the sidelines of the negotiations for time being.
(Additional reporting by Jeffrey Goldfarb and Peter Starck)
© Thomson Reuters 2023 All rights reserved.