Philip Green says doesn't want Baugur stores to fail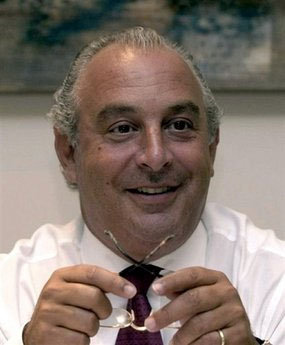 Philip Green - Photo : AFP
LONDON (Reuters) - Philip Green, the billionaire owner of Britain's Bhs department store chain and Arcadia fashion group, said on Monday he did not want the businesses of Icelandic retail investor Baugur to fail.
"I'm not interested in these businesses falling over at all, that will not help... This is 10 weeks from Christmas," he told Sky News.
"I've spoken to the [Baugur] management... If necessary, on certain circumstances, if the need came, I would lend them some money," he said.
Green has been holding discussions with Baugur, as well as Icelandic banks and the government of the crisis-hit north Atlantic island since Friday on acquiring much of the group's debt.
He said there is "nothing wrong fundamentally" with Baugur's businesses.
He added that he expected to know if a deal could be done with the Icelandic authorities within the next 24 to 48 hours.
Buying Baugur's debt, estimated at over 1 billion pounds, would give Green considerable influence over the investment group's retail interests, which include Jane Norman and Whistles, a 49 percent share in Mosaic Fashions -- owner of Oasis, Principles, Karen Millen, Warehouse and Coast -- and supermarket chain Iceland.
Baugur also owns stakes in UK retailers Debenhams Plc , French Connection Group Plc , Moss Bros Group and Woolworths Group

"He's done three of the best deals of all time in Sears, Bhs and Arcadia. This would rank with them, assuming it's allowed to go through," said David Stoddart, analyst at Altium Securities.

For a FACTBOX on Baugur's investments double click on [nLA36551]. For a FACTBOX on Philip Green click on [nLD326294].

(Reporting by James Davey; Editing by Louise Ireland)
© Thomson Reuters 2023 All rights reserved.