Pinterest: the hottest new social network
Co-founded in California in May 2010 by Paul Sciarra, Evan Sharp and Ben Silbermann, the new social networking website has, according to comScore, attracted nearly 12 million unique visitors in the month of January alone. This "virtual pinboard" allows users to organise and share images and videos that they find on the internet by pinning them to their board, which other users can see or choose to follow. A huge portfolio where each 'pin' brings people of similar interests together, and can even make an image go viral. With already around 10 million members, it is not surprising that brands want to try it out.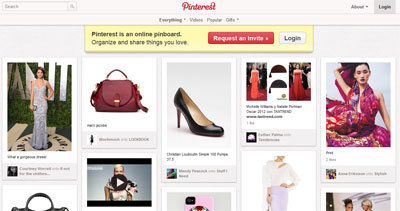 Pinterest, un réseau basé sur le partage de visuels.
It is perhaps even less surprising that tech-savvy Burberry was the first luxury ready-to-wear brand to have a go at it, quickly followed by Gap and Oscar de la Renta. "All brands should be turning their attention to
Pinterest
," said Aurélie de Labarrière, manager of
Pietri
Publcis Consultant, the first PR agency to open an account on Pinterest. "Facebook and Twitter are considered to be social networks which connect us to the here and now. But neither of them was focused on the purely visual, which is at the heart of brands. Pinterest will gain a lot of interest from brands trying to use it as means of exposing their universe to users."
While some will use their pinboards as inspiration, and digitally-savvy brands can discover a different communication tool, Pinterest's business success could be pointing to one thing: the power of images over words.
Alexis Chenu
Copyright © 2021 FashionNetwork.com All rights reserved.