Pitti Uomo sees visitor numbers drop by 8%
From the 13th to the 16th of June, the Italian men's fashion tradeshow Pitti Uomo welcomed at least 8% fewer visitors than the 20,565 seen in June 2008. According to the organizers this was an expected decrease, following on from two sets of record figures.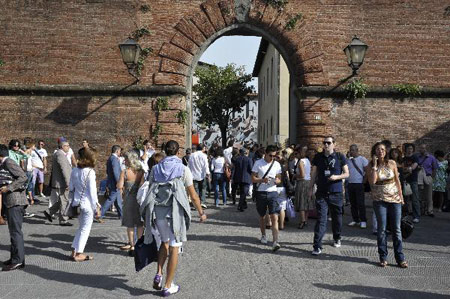 Photo: Francesco Guazzelli
Last year, from the 18th to the 21st of June 2008, Pitti Uomo attracted 35,000 professionals, of which 7,827 buyers came from abroad. That edition of the trade show was considered a success and was followed in January by another edition with another record figure for attendance. Furthermore, from the 13th to the 16th of January 2009 more than 35,000 visitors were present along with a thousand or so exhibitors; a rendezvous marred only by a slight drop in the number of buyers to "only" 22,672.
Germany was the country that was represented the best with 929 buyers, followed by Japan (593) and Spain (547). Coming in afterwards were the Netherlands (422), France (411), the United Kingdom (346), Switzerland (278), China (234), Turkey (229), Belgium (218) and the well represented USA and Russia, with 156 and 143 professionals respectively that made the trip.
In comparison, the spring-summer 2010 show seems much calmer. However, despite this the organizers of Pitti Uomo seem to be highly satisfied with the result obtained.
"These are rather good results and they are better than we expected", commented
Raffaello Napoleone
, director general of the tradeshow, to the Italian press. "I believe that the exhibitors are all convinced, but we must stay humble, keep listening, and above all work with our partners, with whom we have objectives in common."

By Jonathan Fulwell (Source: Matthieu Guinebault)
Copyright © 2022 FashionNetwork.com All rights reserved.