Playtex seduces women in their 50s
The lingerie brand (DBApparel group) launches a new marketing campaign. This, with the slogan "Design My Life", is reviving the interest of its core target audience, 45-55 year olds.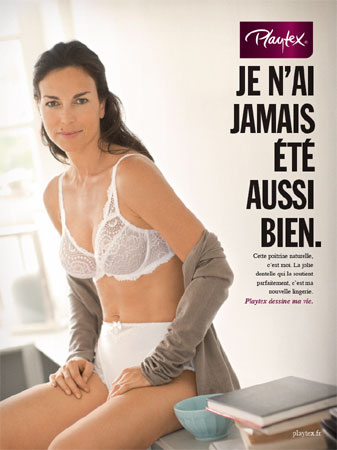 Playtex ad campaign in France
Playtex
returns to the women's magazines, which had not been used for advertising for several seasons. Having aimed to capture younger consumers, the brand has decided to target the mature woman who knows her body and who looks for comfort and quality. "We want to be a recognised brand for mature women," says Vanessa Masliah, communications manager for Playtex. We are therefore rejuvenating with a simple concept that is open to all women. "
Three taglines have been created: "More fit than ever," "Beautiful as ever" and "I've never been so good." The ad images give way to a scene that captures natural moments of life. The idea was to create an intimate connection with all women. "For this reason, we did not choose a muse but a normal woman to speak to a multitude of women," says Vanessa Masliah.
The slogan "Design My Life" is also relayed on the Internet with the website (www.dessins de vie.fr) which offers a video platform with both well-known women (Cendrine Dominguez, Mathilda May, Sophie Favier ...) and those normal speaking of femininity.
After France, all these Playtex strategies will be expanded in Italy from November and throughout Europe from the first quarter of 2011.
Copyright © 2023 FashionNetwork.com All rights reserved.