PPR revamps board to focus on luxury, sport
French luxury and retail group PPR expanded its executive board on Thursday to underscore its focus on luxury brands like Gucci and sports label Puma as it posted slightly higher-than-expected profits for 2011.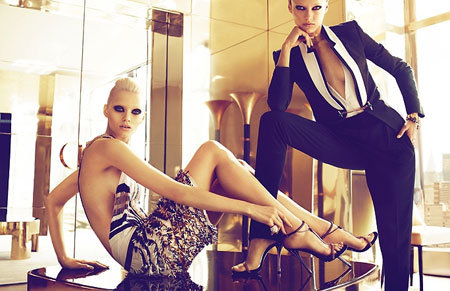 Gucci (PPR group)
The group, which is progressively exiting its retail businesses, said the new board would include the heads of luxury brands Gucci and
Bottega Veneta
-
Patrizio di Marco
and
Marco Bizzarri
respectively - as well as Puma boss
Franz Koch
.
"The changes to the executive committee reflect PPR's transformation ... and give the CEOs of its major brands the opportunity to be more closely involved in the Group's key strategic decision-making processes," it said in a statement.
Looking ahead, 2012 started well as January luxury business trends were "slightly better" than during the fourth quarter, the group's deputy chief executive, Jean-Francois Palus, said on a conference call.
As every year, PPR did not give a precise outlook for 2012, saying only that it expected sales and results to improve. The dividend was kept unchanged.
PPR shares, which have gained 12 percent since Jan. 1, were down 3.8 percent at 119.70 euros by 1030 GMT.
HSBC said negative points in the results presentation included the flat dividend as well as Gucci's weaker-than-expected like-for-like fourth-quarter sales growth, which reached 12.2 percent while the brokerage expected 16 percent.
Gucci comparable revenue in 2011 rose 18.7 percent, closely matching growth of 18.3 percent at rival
Hermes
and beating
LVMH
's fashion and leather goods sales growth, which reached 16 percent during the period.
LVMH and Hermes made similar positive comments about early-year trading and expressed confidence about growth in 2012 in spite of concerns about economic growth in Europe.
Confidence in the short-term prospects of the luxury industry has been dented in recent months over worries that Europe's debt crisis could trigger an economic slowdown in emerging markets such as China, where strong demand for high-end goods has offset weaker trends in the United States and Europe.
Brands such as fashion house
Lanvin
and French handbag maker
Longchamp
recently warned they expected 2012 sales growth to fall below 2011 levels as they expected trading to deteriorate in Europe..
Executives at the Geneva watch fair last month also foresaw a slowdown from record levels achieved last year.
RETAIL DISPOSALS
PPR, whose luxury brands also include
Boucheron
and
Balenciaga
, posted recurring full-year operating income of 1.6 billion euros ($2.09 billion) against 1.37 billion in 2010 as strong luxury profits helped compensate for a big drop at its
Fnac
retail arm.
PPR said the headline results excluded mail order business
Redcats
, for which it had several private equity suitors, though it did not give a timeline for the disposal. The numbers also excluded its Fnac Italian business, which it was trying to sell.
"For us, there is no urgency, what is important are the conditions under which the transaction will be made," Palus told reporters in reference to Redcats.
Regarding the disposal of Fnac, Palus said it would happen after the sale of Redcats. No official sale process for the retail chain had yet been launched.
Fnac, which is undergoing a restructuring amid declining revenue, saw recurring operating income drop 46.5 percent to 102.6 million euros last year.
Financial advisers believe PPR will have a difficult time finding a buyer for the business as the market for books, CDs and DVDs shows no sign of improvement.
In contrast, PPR's fashion and luxury brands enjoyed robust market conditions last year. Revenue generated by the group's luxury arm rose 18.6 percent in the fourth quarter, beating expectations of a 17 percent increase based on a Reuters poll of eight analysts.
Operating income from the group's luxury operations rose 33.8 percent to 1.26 billion euros. The performance included a more than trebling of operating profit at Yves Saint Laurent and a 25.2 percent rise at Gucci, its biggest brand.
By Astrid Wendlandt
(Editing by James Regan and Mark Potter)
© Thomson Reuters 2023 All rights reserved.