PPR's Q2 beats forecasts, keeps 2008 target
By Astrid Wendlandt
PARIS (Reuters) - French retailer PPR posted better-than-expected second-quarter revenues, helped by sparkling sales at its luxury arm Gucci, but some of its retail units were, as forecast, hurt by sluggish consumer spending.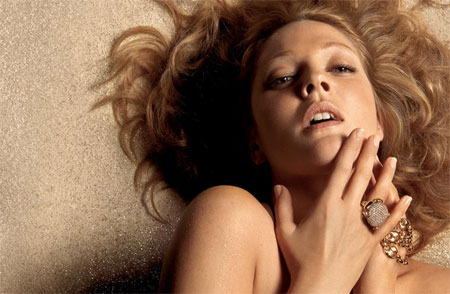 Gucci Ad
The Paris-group, which also owns the French retail chain Fnac, generated revenue of 4.678 billion euros ($7.36 billion) in the three months to June 30, above an average expectation of 4.66 billion euros based on a Reuters poll of analysts.
PPR Finance Director Jean-Francois Palus said the Gucci spring-summer collection had gone down well with customers and the product mix, weighed towards higher-end products, had proved very favorable.
"Footfall in the stores has been very good," Palus told a conference call with journalists.
PPR also owns fashion design houses Stella McCartney, Sergio Rossi, Yves Saint Laurent, Balenciaga and Alexander McQueen, as well as the jeweler Boucheron.
Gucci Group sales came to 761 million euros, up 16 percent on a like-for-like basis, stripping out the impact of currency fluctuations, acquisitions and disposals -- above analysts' expectations of 745 million euros.
"There were fewer surprises than expected. It is generally above expectations," said Simon Irwin, analyst at JPMorgan in London.
"Gucci was slightly better than expected, as well as most luxury businesses, and the retail operations were either in line or, with Redcats (which includes the mail order business La Redoute), notably less bad than we had feared."
Palus said Gucci plans to focus on the development of its presence in emerging markets, which represented more than 32 percent of sales in the second quarter against 25 percent in 2007.
The figures come after Hermes published resilient double-digit second-quarter comparable sales in most of its markets, including the United States and Western Europe.
LVMH , the world's biggest luxury group, publishes its half-year sales on Tuesday.
TOUGH ENVIRONMENT
PPR shares closed up 5.25 percent at 66.60 euros, lifted by the broader Paris stock market.
PPR has been one of the worst performers in the luxury goods sector. Its shares have lost about 43 percent so far this year on expectations of weakness at its retail operations and worries about the market positioning of the Gucci brand.
"It was a very solid quarter. Very strong on both luxury and retail, given the tough economic environment," said Luca Solca at Bernstein Research in London.
In recent months, high inflation combined with concerns about an economic slowdown in the United States and Europe and high oil prices have taken their toll on consumer confidence.
French consumer spending slid 0.4 percent month-on-month in June, slightly less than expected, the monthly household spending release from statistics office INSEE showed on Wednesday.
PPR confirmed its 2008 objective of improved financial performance but declined to give detailed targets.
While Gucci shone, PPR saw sales declines at both its Conforama retail arm and Redcats units.
"Conforama has faced sluggish conditions during the quarter," Palus said, adding La Redoute had been affected by a one-month strike that would also penalize profitability.
Conforama sales were down 1.7 percent like-for-like to 706 million euros, while Redcats saw revenues decline 3.9 percent on a like-for-like basis to 940 million euros.
At the sports goods retailer Puma, Palus said there had been a slight decline in average retail prices due to tough trading.
But overall, Puma revenues rose 11.2 percent on a comparable basis to 577 million euros, a whisker above expectations of 575 million euros based on a Reuters poll.
PPR's Fnac revenues were up 3.1 percent on a like-for-like basis to 978 million euros.
($1=.6356 Euro)
(Editing by Greg Mahlich and Gerald E. McCormick)
© Thomson Reuters 2023 All rights reserved.