PPR, Yoox in e-commerce joint-venture
French luxury and retail group PPR and Italian online fashion retailer Yoox have created a joint venture to sell some of PPR's leather bags to a growing online community as sales in crisis-hit southern Europe lose their sparkle.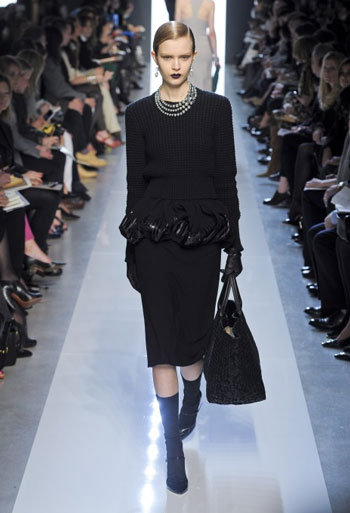 PPR's Bottega Veneta on the catwalk in Milan, autumn-winter 2012/2013
The venture, 51 percent owned by PPR and 49 percent by Yoox, will sell PPR's
Bottega Veneta
, Yves Saint Laurent,
Alexander McQueen
,
Balenciaga
and
Sergio Rossi
brands through a global digital platform, the companies said in a statement on Friday.
The online fashion industry has seen rapid growth in recent years as shoppers turn to their smartphones to snap up leather bags and fashion accessories. Online reach helps cushion retailers from weaker demand in southern European markets where economic concerns are scaring customers away from stores.
But a fast-changing consumer mood and a social media boom have made it more challenging for fashion houses to manage e-commerce alone.
Shares in both companies rose on the deal, outperforming a more muted market. By 0800 GMT, Yoox's shares were up 4.2 percent, while PPR was up 1.2 percent.
The deal will strengthen PPR's presence in over 100 countries, while Yoox will be rewarded on a revenue-share basis.
"Assuming that the online business might represent some 1-3 percent of the brands' revenues, this should add 20-50 million euros of revenues to the existing Yoox business," Mediobanca analyst Chiara Rotelli said in a note.
"We expect the share price to react positively to this news," she said, keeping a "neutral" rating on the Yoox stock, with a target price of 9.22 euros per share.
The online stores of Sergio Rossi and Bottega Veneta, known for high-end leather shoes and bags, will be launched first, by the end of 2012, the statement said. PPR may later decide to include other brands in the joint-venture.
After seven years of operations, PPR and Yoox will have the right to exercise call and put options respectively for the Yoox stake in the joint-venture.
Yoox is due to announce its first-half results on Friday. Analysts expect growth to continue in the period.
Mediobanca expects consolidated revenues of 78.4 million euros for Yoox in the second quarter and 169.3 million euros in the first half.
© Thomson Reuters 2022 All rights reserved.