Première Vision launches PV Global Meetings
The leading textile trade fair has decided to add one more day to its agenda to spawn discussions on key issues among professionals, experts, directors from the fashion and textile industry. This symposium will take place for the first time on February 17, 2012 in downtown Paris at the former French Stock Exchange, Palais Brogniart.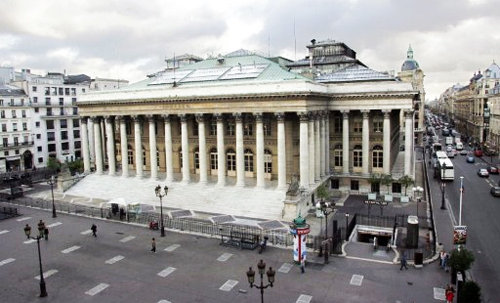 Le Palais Brongniart - Photo: François Guillot/AFP
"We have set this venue apart from the show which is already compressed into three instead of four days as it was before", Philippe Pasquet, CEO of
Première Vision
explains. "Time is therefore needed in order to think and discuss about today's issues, whereas a one-shot conference is not enough".
Business executives, managers, decision-makers, experts, opinion leaders, etc., from the fashion and textile industry worldwide will be invited to participate at this event; around 600 delegates are expected. Plenary lectures, debates and focused discussions on today's "hot" topics will be à la carte. The programme will be organised with the support of the IMF (French Institute of Fashion). Operational organisation has been entrusted to Package, a specialist in international conferences.
Copyright © 2023 FashionNetwork.com All rights reserved.