Prime Source Forum 2011 on 'Supply Chain Management'
Senior executives from all aspects of the supply chain servicing the global apparel industry will be in Hong Kong for Prime Source Forum 2011 – the definitive annual meeting of this industry. The event runs 30 March – 1 April and will be held at the Hong Kong Convention and Exhibition Centre.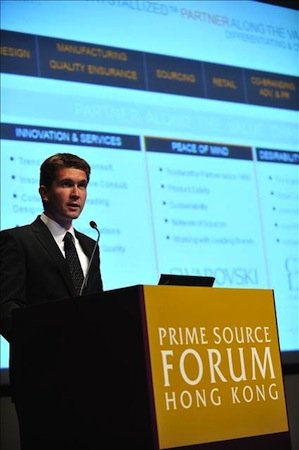 Stefan Elwischger, for Swarovski Elements, detailed the innovation within CSE in the apparel businesses and consumer in retailing last year.
Mr. Edwin Keh, former Senior VP, COO at
Wal-Mart
Global Procurement, will give the keynote address. Mr Keh, who now lectures at Wharton Business School, University of Pennsylvania, will speak on "Supply Chain Challenges and Opportunities for the Next Decade".
With recovery from the recent global economic crisis underway throughout the greater part of the garment and apparel industries in 2010, now is the time to consider the big changes and forces that influence supply chains and affect pricing, quality, speed and performance. It is time to plan and implement the management of these changes and challenges already happening and those coming up. How do companies refocus their thinking on the big issues? What are they? and what are some of the important considerations to take into account as they plan ahead?
Throughout the three days of the event, more than fifty lead speakers and panellists will join Mr. Keh, in seven sessions covering "Challenges and Competition", "Balance of Trade", "Currency and Labour Issues", "Raw Materials Shortage", "Sourcing Alternatives" and "Talent Management".
Co-located with the forum are workshops addressing industrial operational issues.
1) Standardisation: hosted by the Global Apparel, Footwear and Textile Initiative (GAFTI) whose Chairman, Thomas Nelson, says, "During 2010 most apparel companies experienced a tremendous storm, yet, most saw a resurgence of 'chasing the business' due to better retail sales. As we move forward, our lives in the apparel industry will only become more complicated. We will need to do things faster, cheaper and better. However, much of what we can do can be done in unison and can really help to make a better world for the workers, factories, the Brands and our end customers."
2) Following on from previous (green) themes, are six Technology Workshops. On the supply side, issues addressed include ways to apply lean manufacturing concepts to improve the supply chain's overall efficiency, cost-effectiveness and reduction of waste. From the retail perspective, focus will be given to the latest retail-enhancement technologies and the importance of sustainable business practices.
The Forum itself, now well respected for its pivotal role in bringing apparel industry experts together, a record number of registered delegates is expected, from major brands such as adidas, ACE Style, Ann Taylor,
Benetton
, The Children's Place,
Cortefiel
,
Guess
?, Hugo Creation,
Hugo Boss
, ITC, Kohl's, Levi's, Li & Fung,
Nike
,
Quiksilver
and Swarovski Elements, and many more.
Prime Source Forum 2011will be held 30 March – 1 April, 2011, at the Hong Kong Convention & Exhibition Centre, Wanchai, the heart of Hong Kong's business and entertainment sector. As in previous years the event runs concurrently with two trade fairs servicing the fashion industry.
The entire programme may be consulted on
primesourceforum.com
.
Copyright © 2023 FashionNetwork.com All rights reserved.