Printemps CEO confident in Christmas, luxury focus
By Lionel Laurent
PARIS (Reuters Life!) - Printemps' flagship Paris department store says it is set to reap the benefit of a $105 million refurbishment and a new luxury strategy as it kicks off the Christmas season.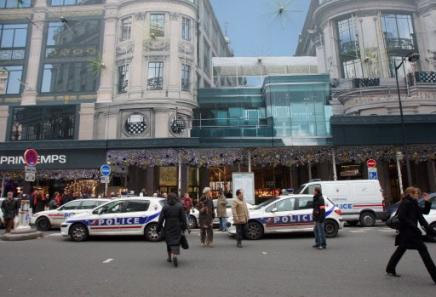 Photo : AFP
The retail chain's chief executive, Paolo de Cesare, told Reuters on Thursday 12 November he was "optimistic" about holiday trading at a time when French consumers are still showing signs of caution.
"Summer was difficult, but I see now customers coming back," said de Cesare. "In the end there is the spending power, and consumers are ready to invest where they find the right opportunity."
De Cesare said a week of sales in mid-November had brought in 30 percent revenue growth when compared to the same period a year ago. He added the discounts were "very targeted" and would not affect holiday trading or bigger January sales.
New data on Friday 13 November showed the French economy grew by 0.3 percent in the third quarter of 2009, with job losses slowing while consumer spending stabilized.
The holiday season is still expected to be subdued, according to several analysts, citing rising unemployment and the strong euro's negative impact on tourism flows.
"Although consumption is not plummeting like some people feared, it's still really weak when compared to historical patterns," said Diego Iscaro, an economist at IHS Global Insight.
LUXURY FOCUS
The Christmas season will also put Printemps' mostly complete $105 million renovation to the test. The revamp is part of the luxury-focused strategy under Italian-born de Cesare, who took the reins after Deutsche Bank and Borletti Group bought Printemps from PPR in 2006.
"Luxury over the Christmas period is kind of a core period because people will buy a high-end good maybe for their husband or wife," said Simon Chinn, analyst at Verdict Research. "Leather bags and accessories generally do quite well."
Printemps, which has 17 stores in France and one in Japan, has progressively gutted its Paris flagship over the past two years, converting the closed-off floors into an open-plan design and replacing the lift system with central escalators.
It now has three floors dedicated to accessories, covering 9,000 square meters, replacing a broader selection of lingerie, jewelry and "accessible" accessories.
The store also has a newly refurbished facade, which was officially opened Thursday (12 November) night. The 150-year-old domes and mosaics were bathed in violet light while marionnettes danced across Russian-themed window displays.
Inside the store, two giant sets of Russian dolls created by Chanel and Dior loomed over curious shoppers and tourists.
The store has also shed mid-market brands like Zara and Naf Naf, ushering in instead more exclusive names like Miu Miu and giving fashion guru Maria Luisa Poumaillou her own store, "Maria Luisa."
De Cesare said Maria Luisa, which features hand-picked designers including Gareth Pugh and Victoria Beckham, had a higher return per square meter of shop floor than many brands on the same floor such as Yves Saint Laurent, Gucci and Paul & Joe.
"(Maria Luisa) is one of the things that gives me confidence that our positioning is getting good traction," he said.
Analysts are generally positive on Printemps' upmarket move as they believe it could boost its chances of luring tourists away from the more internationally known Galeries Lafayette.
"Printemps was seen as an ugly sister to Galeries Lafayette," said Isabel Cavill, an analyst with research firm Planet Retail. "(The new strategy) should definitely boost traffic."
But as long as the recovery remains subdued, it may take time for the strategy to bear fruit.
($1=.6668 Euro)
© Thomson Reuters 2023 All rights reserved.